bio

pix

europe

links

soundgarden

chris cornell

contact

naughty dolls

home

Monday, January 10, 2005
Hey kids! Here's a very quick recap of the things I've neglected to share with y'all:
- Zack shattered his right wrist on November 20th. He had surgery to put in a metal plate & screws. We spent a long night in the hospital (the same hospital where the baby will be born next month), but he's doing fine now. He bought an Xbox for "therapy." Our awesome MX friends are helping to rebuild Zack's bike. He estimates he'll be ready to ride again in a couple of weeks.
- 41 days until I give birth. Yes, I am counting the days. You would, too, if you looked like a cow and couldn't get comfortable no matter what you do.
- We've decided to name our baby girl Katarina Bailey Salinas. We received a bunch of baby stuff for the holidays. Zack's mom & sister have gone crazy and supplied Katarina with a wardrobe that puts mine to shame. And that is no small feat, lemme tell ya.
- Z and I took birthing/lamaze classes a few weeks ago. I still don't know how to change a diaper, but I'm a pro when it comes to breathing for relaxation.
- Over the next couple of days I'm going to answer all the email I've been neglecting. Sorry 'bout that.
- We had a 3d/4d sonogram done last week. Here's one of the pictures of Katarina.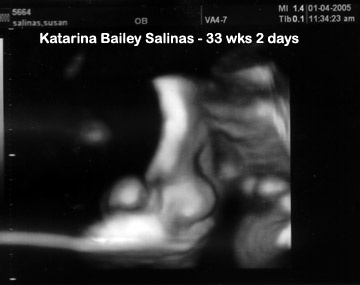 She looks like Zack!
- Did I mention that I only have 41 days of pregnancy left? Woo!
- That's right... 41 days.
- Zack and I will celebrate our 5th wedding anniversary on Sunday. He's such a peach. :)
That's all for now. I'm going to update the blog soon and fix all the links that are broken. Ta!
suzie 06:13 PM CST [link] [7 comments]
Friday, November 12, 2004
25 weeks & 5 days pregnant...
Yesterday afternoon I was laying on the couch, trying to take a nap. Our two dogs, Zoe and Squeak (both Toy Rat Terriers), decided to join me. I was laying on my left side. Squeak, the smaller of the two, curled up right against my tummy. She was just starting to doze off when the baby gave a really hard kick... right against Squeak's side. Squeak whipped her head around and started sniffing my tummy in confusion. It was hilarious!! Squeak apparently decided that sleeping next to my tummy was too perilous, so she joined Zoe next to my feet. :) Ha!
suzie 09:41 AM CST [link] [42 comments]
Wednesday, November 10, 2004
The seafood guy at our local Walmart is crazy. Literally. He gets on the PA and screams about crab cakes, then he turns off the PA and he keeps screaming about crab cakes. You can hear him clear across the store. He's really old and has Einstein hair.
Walmart just got a little less depressing.
suzie 04:26 PM CST [link] [4 comments]
Tuesday, November 9, 2004
I'm 25 weeks and 2 days. The year is dragging by. I've been up to a bunch of stuff... road trip to Houston, every weekend centered around motocross, doctor appointments, signing up for childbirth classes, procrastinating on buying baby stuff, etc.
Tomorrow evening Zack and I have an anesthesia lecture to attend. I decided that I should get some information about my options before telling the doctor "Give me every drug you've got!!"
Here's a picture of me taken Sunday at Mosier Valley MX. The guy on the red bike on my left is our friend Chad.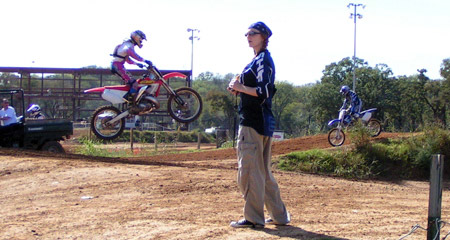 25 weeks along. Not much of a tummy yet.
Chad's a swell guy. He and his lovely wife just had an adorable little girl, Ysabella, six months ago. She's a little doll. They bring her out to the MX track every weekend and she *never* cries or fusses. The bikes don't scare her. She just smiles and gurgles and waves her little hands.
Here's hoping that Zack and I don't end up with the little hellion my mother says I was when I was a kidlet.

suzie 02:29 PM CST [link] [5 comments]
Friday, October 8, 2004
We had our sonogram this morning and...
*drum roll*
IT'S A GIRL!! :)
She was moving around like crazy. She yawned, sucked her thumb, and even held up her little hand in the "I'm #1!" sign. That's my girl.

I'm #1, yo!!
We're out of here for the weekend. Zack and I have a four hour drive down to Houston. Plenty of time to discuss baby names. :) Ta!
suzie 10:27 AM CST [link] [10 comments]
Tuesday, September 21, 2004
Ok, I'm back. Thanks for missing me. xo
Baby news is grand. I'm 18 weeks. We go in to the doc on October 8th to find out if we're having a boy or a girl. Then that afternoon we're driving down to Houston for the weekend to stay with our friends, Dave and Lisa. There's a memorial race going on in Splendora on Sunday, so Zack will be riding all weekend. I've signed up for volunteer duties... flagging, signing people up, dousing winners with Gatorade, slapping hot riders on the ass in congratulations, etc. It's rough, but someone has to do it.
We've spent the last three Sundays out in Euless (Useless) at Mosier Valley MX. It's a fun (and miserably hot) way to spend Sunday afternoons. Since I'm a non-riding wife unit these days I get to park myself under the tent thingy with the other wives/girlfriends and injured riders. The only dirt action I get is when I have to ride Zack's bike to the porta-potty every hour. You do not know stink until you have to walk into one of those things in the middle of a scorching Texas afternoon.
Last Saturday we spent the afternoon with my brother Larry & his long-time girlfriend, Alysia. Larry bought a new Dodge Neon. It's pretty zippy. Later that evening we went to a boxing party (De La Hoya vs. Hopkins) at Izaac & Nicole's house. Zack drank freely and I practically had to carry him home. I thought he would be hungover the next morning, but he was up early, fetching me breakfast from Whataburger. Goooooood husband.
This afternoon I'm getting a flu shot. Woo.
Oh, I was looking around online for pictures of the Dallas SX races and I found a pic of Kevin Windham and me on the Kicker website. My MX buddies say it looks like I'm grabbing his ass. Jeez, I was just wishing him good luck. :) Give me a break.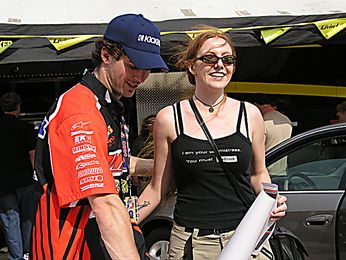 Playing grab-ass with K-Dub.
suzie 11:24 AM CST [link] [6 comments]
Wednesday, September 1, 2004
Abducted by aliens. Be back soon. :)
suzie 11:10 AM CST [link] [13 comments]