If you know anything about me you know that I adore the band Soundgarden. I have been a fan since 1989. (See how old school I am? haha.) My SG collection is extensive. I have been on SOMMS since 1995 (nick is Shroom). To be perfectly honest, I am a Soundgarden snob. I've met them several times. Chris Cornell has even sang happy birthday to me from stage. (Les <3)
The following are for your pure Soundgarden enjoyment:
-------------> Chris Cornell <-------------
Check out my Chris Cornell page!!
Soundgarden for Diet Coke - Chris and Kim sell out.
Modern Nude Drummer - Haha - no actual nudity. Older SOMMSters will remember this.
Soundgarden autographs - Kim told me I had pretty eyes and even wrote 'Nice eyes' next to his signature.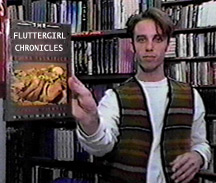 Mr. Bunchypants shows off my autobiography.