And now, from the Soundgarden archives...
we bring you a picture from the little known
commercial that Chris and Kim did for Diet Coke!

(or.... Chris and Kimbo peddle their asses for rock glory and freebie sodas)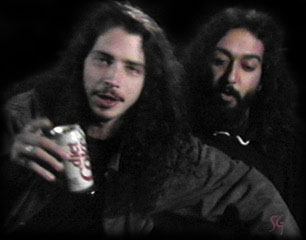 Chris: "...and if you drink Diet Coke you can be a rock star just like ME! Well, maybe not JUST like me. After all, I'm drop-dead gorgeous and you're not. Ok, if you drink Diet Coke you can PRETEND to be a rock star like me. Actually, I'm not even drinking Diet Coke. I have Jack Daniels in this can, because Diet Coke sucks. But they're paying me a bunch of money to hold the can and look drop dead gorgeous... so there ya go."
Kim: "Could I say something really quick? I think that the philosophy of pretending to be a rock star could be equated to..."
Chris: "Oh shut up, Kim. No one wants to listen to your intelligent babble. They want to look at my drool-inducing face! Now get out of my way, you're hogging my camera space! Jeez, we modest people never get the recognition we deserve. ESPECIALLY if we're drop-dead gorgeous, which (of course) I AM."
Director: "OK... CUT!! THAT WAS GOOD BOYS. LET'S TAKE IT ONE MORE TIME FROM THE TOP!!
Chris (to Kim): "Do you think I should take my shirt off this time?"
Kim:*shrug* "Gimme the can. It's my turn to hold it. CAN SOMEONE PLEASE GET ME A BEER??!?"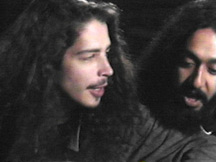 (I am gorgeous. Get back, you hirsute brainiac!)