bio

pix

europe

links

soundgarden

chris cornell

contact

naughty dolls

home

Wednesday, January 28, 2004
Random hottie wearing Chucks picture 06: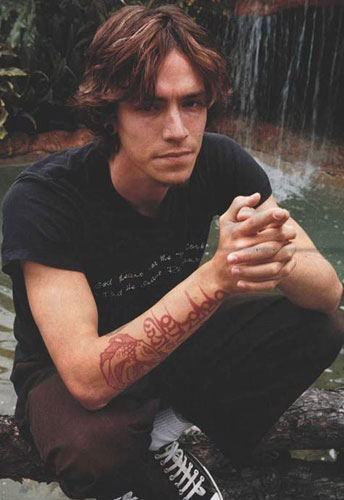 Brandon Boyd.
Smallville: Is "Lois Lane" Chloe's cousin, or ALIAS?? Awesome ep! Much Chloe, much hope for Chlark.
Give. Me. The. CHLARK!
That is all.
suzie 09:58 PM CST [link] [7 comments]
Tuesday, January 27, 2004

Nothing happened today. Go check out the fucking AMAZING Raspil.
Go, damn you!
xo
suzie 08:57 PM CST [link] [5 comments]
Monday, January 26, 2004
Break dancers perform for the Pope?!? What fresh hell is going on with that old man? You have to see the pictures. They look like something you'd see on Fark, but this is no PS job.
I've had a fairly interesting day, Vatican break dancing aside. First of all, I went to donate platelets, but the girl who stuck me did a crappy job and it "infiltrated," so I couldn't donate today. Luckily I was able to receive the rinse back, so I don't have to wait 50-something days to donate again. I go in again on Thursday afternoon.
I stopped by the Franklin Mint store at the mall to check on the status of an item I had returned to them, and I found out that the whole company is closing. Dammit, where am I going to find presents for my mom now?? Anyway, the clerk gave me the 800 number, so I went home and called. The guy I spoke to was kind of hyper and English was obviously his second language. He checked my account and found that the charge had been credited back to my card. Then he tried to sell me an Elizabeth Taylor baby doll. I told him no thanks, but he took that as a sign of interest and spent the next two minutes describing the doll to me. I told him that I don't collect things like that and he said "No, no, it's not a collector thing, it's something to give you pleasure!" I considered telling him that if it didn't vibrate and have a convenient way of recharging, I wasn't interested, but instead I just told him no. Then he got even more hyper and said "Tell the customer thank you for shopping with the Franklin Mint and wish them a happy New Year!" Ha! I said "Tell the CSR that you appreciate his enthusiasm for his job and with him a happy New Year back!" That confused him, so I just said thanks and hung up. Poor guy.
I'm going to put ice on my arm now. Ta.
suzie 04:27 PM CST [link] [10 comments]
Sunday, January 25, 2004
I'm going to make new journal entries every day this week, even if I have absolutely nothing to say. Hell, most blog entries are basically nothing anyway, right? ;)
Tomorrow will be my 6th Monday in a row of donating platelets. Last week I got Zack to go with me and donate. He didn't enjoy the experience very much, so I doubt I'll be able to drag him back again.
Did you guys see Brian Deegan eat ice yesterday at the X Games? Ouch.
I stayed up to watch SNL last night because I thought Megan Mullally was hosting, but she's not on until Feb 7th. Bastard reruns.
suzie 03:43 PM CST [link] [2 comments]
Tuesday, January 20, 2004
Random hottie wearing Chucks picture 05:



Paul Walker.
Popular to contrary belief (© Margie) - I have not been sucked dry by evil platelet monsters. I'm fine, fit, and ready to get back into the swing of things.
Randomness:
- Zack and I have been married for four years now! Love ya, Z!
- WHAT is up with Jimmy Fallon's hair? I used to think about tying him down and doing naughty things to him, but now I think about tying him down and cutting his hair. Seriously, Jim. Get rid of the mullet.
- New obsession: Josh Duhamel.
- I've donated platelets five weeks in a row now. Don't worry about it, Padre. Before every donation the technician comments about how high my platelet count is. I'm fine.
- I loves me some Dena!!!
- I'll be catching up on my email over the next few days.
xo
suzie 02:27 PM CST [link] [5 comments]