bio

pix

europe

links

soundgarden

chris cornell

contact

naughty dolls

home

Sunday, September 28, 2003
Random hottie wearing Chucks picture 01: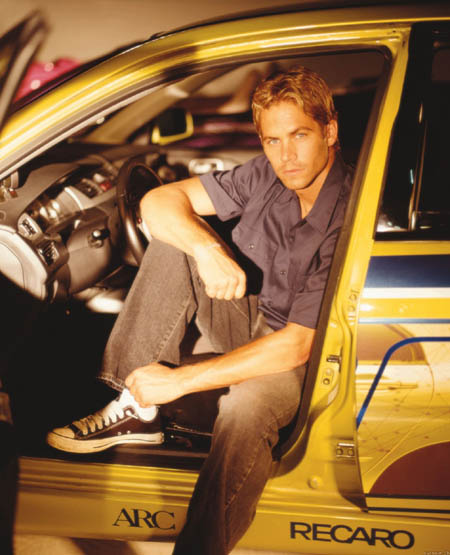 Paul Walker.
Yum.
suzie 03:39 PM CST [link] [16 comments]
Friday, September 26, 2003
Zack and I were just up at the beer/wine store and the Corona beer girl gave me a bottle shaped keychain/bottle opener and a poster featuring a bikini clad woman. Because I obviously look like the type of married woman who collects posters of bikini girls with unlikely breasts.
/ sigh.
suzie 03:49 PM CST [link] [5 comments]
Wednesday, September 17, 2003
We spent the weekend with Zack's mom & sister in the Austin area. They just bought a new house. While Kris and I were picking up groceries & whatnot at Wal-mart we met up with a man & woman from the church Kris & Mom attend. When Kris stopped to say hello to them the woman appeared concerned when I stopped, too. I could imagine her thinking "Watch out for that freak, Kristina! I think she's going to snatch your purse!" Ha. Then when Kris introduced me they were both probably thinking "How did that nice Salinas boy end up with a hellion like that??" To their credit, Mom & Kris have both accepted me unconditionally. I swear, I couldn't have ended up with cooler in-laws if I'd had eleventy billion dollars to search for some.
I had a dream the other night that I lived across the street from Chris Cornell and Susan Silver. I went outside to check my mail one afternoon and they were getting on their motorcycles to leave. Chris said they were going on a road trip and Susan invited me to go with them. I told them I didn't have a motorcycle. Susan said "That's ok, you can ride behind Chris!" Hell yeah! Best. Neighbors. EVAR.
UPDATE:
Due to requests from old SOMMS buddies, I've decided to close this forum down. I thought it was funny and entertaining at first, but it has degenerated into something I don't want to deal with anymore. You'll have to look for fresh Chris Cornell and Vicky Karayiannis gossip elsewhere. Ta.
Tuesday, September 9, 2003
When I started school in Texas there was a boy in my home ec. class named Jaime, which is pronounced "high-may." I have a notoriously hard time understanding words in every day conversation (which results in hilarious misunderstandings of sitcom proportions in my life), so I thought his name was Hiney. I called him Hiney all through middle school and I never understood why he was such a jerk to me. South Dakota schools don't teach you correct Spanish pronunciations, so I was oblivious to my error, and Jaime thought I was just being a bitch and teasing him. We had a jolly good laugh once we both realized what was going on. Then we went back to being a bitch and a jerk to each other, because after three years it was the only way we knew how to interact.
/ randomness at it's best.
PS - I'm not on this list, and I hope you aren't, either.
PPS - Here's an even better link to a database that is searchable by user name or IP:
http://eff.org/IP/P2P/riaasubpoenas
Link kindly provided by the always charming Scott from Wirehed.
suzie 01:02 PM CST [link] [5 comments]
Friday, September 5, 2003
I have a picture to go along with part of the recap of things I saw on my last trip.
"Five (5) 18-wheelers flipped over. One flipped in front of us. I didn't actually see it go over, but I did see the dust flying when it went. Luckily the driver was ok and the rest of us working saps managed to drive past on the grassy median before the cops showed up and shut down the highway."
I snapped this pic while I was scooting over to the median so I could get around the truck.
Notice the scrape marks where the rig slid for a good distance before finally stopping. I feel for the guy, but I'm glad it wasn't me. :) Supertrucker!!
suzie 11:41 AM CST [link] [3 comments]
Thursday, September 4, 2003
More random thoughts:
- Dave Matthews... hair plugs?
- Why is Gateway's signature thing a cow print pattern?
- The women in acne commercials don't have pores. Bitches.
- I wouldn't mind having season tickets to see the Dallas Stars or Mavericks play.
- On VH1s I Love the '70s Lisa Marie Presley goes on about the sacrilege of The Exorcist, but she's a fucking Scientologist. WTF?
- Zack is probably going to England for a couple of weeks at the end of the month.
- If ticket prices are cheap enough, I might go with him.
- If not, I'll be down in San Antonio/New Braunfels with my old cronies. I loves me some Dungy/Dreibrodt!
- A pervert in a Peterbilt is picking up Kelso on a rerun of That '70s Show right now.
- I was born in 1974.
- You care a lot.
- I didn't have to go on the last run. Yay on me.
- It's about damn time that Dan Cortez made a comeback sans mullet.
That is all.
suzie 05:25 PM CST [link] [3 comments]
Tuesday, September 2, 2003
I'm back briefly. Last week I drove from Alvarado (South of Ft. Worth) to Albquerque, NM, to Aberdeen (Baltimore area), MD, and then back to Alvarado. I leave again on Thursday morning to deliver in Albuquerque on Friday. Then I'll pick up another load and head down to Fort Huachuca, AZ, and spend the weekend touring Tombstone (OK Corral, here I come). I deliver Monday morning and I'll be home Tuesday night. Then I should get a nice break for awhile.
Here's a picture of me, Paul (the driver of the Buffalo), and one of the demolitions guys from the Aberdeen Proving Ground. I wish I could remember his name, because he was hilarious. We'd just finished loading the Buffalo on my trailer:
Interesting things I saw on this last trip:
- Five (5) 18-wheelers flipped over. One flipped in front of us. I didn't actually see it go over, but I did see the dust flying when it went. Luckily the driver was ok and the rest of us working saps managed to drive past on the grassy median before the cops showed up and shut down the highway.
- An idiot driving like a bat out of hell with a brand new 50" television weakly tied down in the bed of his pickup. As he passed the truck in front of me the television FELL OVER. I'm positive that he majorly fucked up his new toy. It was funny because he was so careless and my television is 6" bigger than his. Nyah!
- One of the soldiers checking out trucks at the Aberdeen Proving Ground was a cool Wiccan guy I'd met on a previous run. Hi, Jerry! )O(
- The sniper who was guarding the exit to the PG waved goodbye to us very enthusiastically. Cool.
- Every time I stopped at a truck stop and saw a private coach bus I would imagine rockstar eyes peeking out at me from behind tinted windows. Hey, it can get boring out on the road. Little fantasies help pass the time.
- I could see myself as a tour bus driver for a band. A band that doesn't suck, of course.
- I can't think of anything else to mention here. I wrote a bunch of stuff down in my temp journal, but that's saved on my laptop and I'm just too frigging lazy to go into living room and turn it on.
I'll be updating again regularly when I get back next week. xo
suzie 09:00 AM CST [link] [5 comments]