bio

pix

europe

links

soundgarden

chris cornell

contact

naughty dolls

home

Tuesday, July 30, 2002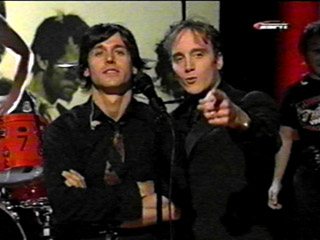 Ha. That kicked much ass.
suzie 06:27 PM CST [link] [4 comments]
mmm... blue pills.
I'm waiting not-so-patiently for Mohr Sports to come on ESPN. Jay Mohr is an ass, but today he's having Our Lady Peace as the musical guest. How did Jay Mohr get his own show?? It boggles the mind.
Hurry up and turn 4 p.m., dammit!
My dad called earlier and told me he and my mom are going to drop by the apartment tomorrow afternoon. Say whaaaa? My parents are NOTORIOUS for never visiting me at home. I go to them. That's been the plan and that's the way we all like it. Now I have to vacuum. &%$#!!! My mom is going to be peeking into all my cupboards and making comments about my knick-knacks.
Mom, I love you. WHEN YOU'RE NOT IN MY APARTMENT.
I'm ok. Really.
EIGHT MINUTES AND COUNTING. Obsess much? I do.
suzie 03:53 PM CST [link] [1 comment]
Monday, July 29, 2002
I'm still alive. We went to Austin this weekend. I'm not leaving for my long-ass-road-trip until Thursday. Now you're in the know, baby.
I was sitting in a bubble bath earlier and thinking of some of the silly things I've done in life. I recall in 1996 I followed Soundgarden's tour bus from Houston halfway to Austin. I had gone to the show in Houston (which was held in an old grocery store) and offered to drop off a fellow SOMMSter (Soundgarden mailing list buddy) at his hotel. He had flown up from Mexico just for that show. Earlier we had hung around to meet the band and Matt Cameron had greeted me by name. I was sooooo cool. Ha. Anyway, thanks to my trucking ways I knew which route their tour bus would take to Austin. I kicked my little convertible up to Ludicrous Speed and hoped to catch up with them. As I was passing a lonely little truck stop in the middle of nowhere I saw their magenta tour bus parked next to the fuel pumps. I pulled an illegal-as-hell u-turn in the middle of the highway and went back. As I was filling up my car I watched Chris Cornell watch television on the bus and Matt, Ben, and Kim buy snacks in the store. Ben tried to lure a black cat to him on his way back to the tour bus. They all gave me big smiles and waved as they boarded the bus again. (Although, in retrospect, this may have been an attempt at pacifying a rabid fan instead of actual friendliness.) I went inside to pay for my gas and I asked the clerk if he knew who the guys on the bus were. He didn't. I told him it was the Almighty SOUNDGARDEN. He said "oh, they're in a band? I like wrestling, myself. have you ever seen *insert random wrestler's name here*?" "Holy CRAP!" I said. "You just sold a Slim Jim to Ben Shepherd and Doritos to MATT FUCKING CAMERON and you're talking about wrestling?!?" Anyway, their bus driver (whose job *I* should have had) came in to pay for their fuel and I told him to drive very carefully because he was carrying *very* precious cargo. He grinned and told me he would. I followed them until I had to turn off for San Antonio. (I was staying the night with a friend there.) Before the turn off I zoomed past the bus and waved (convertibles are neat). The driver flashed his lights at me and waved out his little window.
Good times... good times.
More tomorrow.
suzie 07:22 PM CST [link] [3 comments]
Wednesday, July 24, 2002
Zack had a board meeting tonight. Tomorrow he has to work late. Friday we're going to Austin for the weekend. Monday he's taking most of the day off to help a friend install a fence. I'm leaving Monday night for a three week trip. He hates me.
Kidding. :)
suzie 08:36 PM CST [link] [2 comments]
Tuesday, July 23, 2002
Holy crap! Jimmy Fallon is going to host the MTV video music awards by himself this year! Thanks to Tiff for the heads up! Jimmyyyyyyyyyyyyy... probably the ONLY reason to watch MTV this year.
I'm leaving on July 30th for another really long run. It's going to be something like three weeks, although I'll be checking in from the road occasionally. I'll be going from Yuma, AZ, to Maryland to South Carolina and back again and forward again and back again, etc.
Needless to say I'll be burning cd's for the rest of the week. I've got about six years of OLP bootlegs ready to go. Rawk.
suzie 08:52 PM CST [link] [3 comments]
Monday, July 22, 2002
Zack read the first Harry Potter book yesterday and this evening we watched the movie together (with an hour break between 8 & 9 p.m. so I could get my Smallville fix.) Z agrees that the book is better than the movie. While I was fast forwarding to the outtakes Z started laughing. I asked him why and he showed me that someone involved with the movie had the last name of Biggerstaff. He said that the inevitable porn movie will be called Hairy Potter and the Scorcerer's Bone. I married a perv.
suzie 09:56 PM CST [link] [3 comments]
Sunday, July 21, 2002
I have access to a laptop that is newer and faster than Wendy, my ancient, but trustworthy Toshiba laptop. So let's see... what should I name her? Cartman is our biggest computer. Stan is our server. Kenny was Zack's laptop, but right after he named it Kenny it died. Oh, the irony. Kyle is Zack's couch computer (aka "old cartman"). I guess I'll have to call this new laptop either BeBe or Mrs. Choksondik.
We went over to my parent's house yesterday. Dad showed off his new Bug (leather interior and a vase... weird.) Then I spent something like 7 hours cleaning out my old room so they could make it into a guest room. I pulled the last of my Soundgarden posters off the wall, lovingly rolled them up, and put them away. I had so much CRAP in that room. The entire kitchen was filled with garbage bags of stuff. I'm glad I got rid of most of it. Unfortunately, I'm a big ball of pain today. I spent too long bending over, sorting through everything. And the lifting... jeez. I should have gone inline skating to loosen up, but instead I kept snorting BC (haha, kidding, I take it with water) and sitting on the couch. This new laptop rawks.
Ahhhh, lazy Sundays.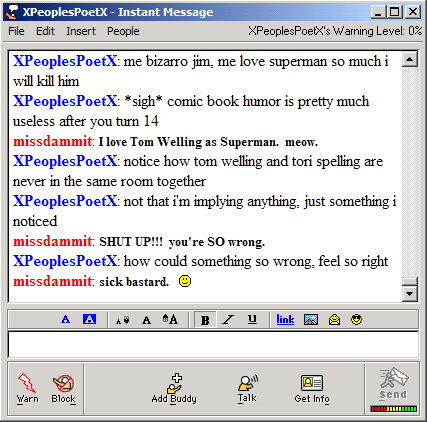 suzie 09:04 PM CST [link] [7 comments]
Saturday, July 20, 2002
An email I received this evening from my mother:
"Hey Baby, Uncle Gordon just called, they took down a meth lab today and he
was the first one in. See you tomorrow. Love, Mommy"
In case you didn't guess, Gordon is a cop (aka The Fuzz or The Man.)
I love my family. They're so wacky.
suzie 12:46 AM CST [link] [3 comments]
Friday, July 19, 2002
My father bought himself a brand new diesel Volkswagen Beetle yesterday. It's that pea green colour that VW calls "cyber green." I told him we would be out tomorrow to see it (and to eat mom's lasagna), but that didn't stop him from keeping me on the phone for 15 minutes so he could describe, in detail, all of it's options. When it comes to his toys, my dad is a huge kid. I'm sure he's going crazy right now trying to figure out how he's going to fit it in the garage with their Honda Insight and three Harleys.
Sheesh... parents. Spending my inheritance. I'M KIDDING! I like it when my dad gets something new. It puts him in a good mood for weeks.
Zack has to do something tonight with the non-profit agency he's on the board of. This means that I'm going to be home alone again. *sigh* I guess a trip to the liquor store is in order. Is it wrong to enjoy the crisp refreshment and tantalizing flavour of an ice cold martini by yourself? I think not.
Maggie and Tanya understand me, dammit.
suzie 11:55 AM CST [link] [5 comments]
Thursday, July 18, 2002
Zack has to work the late shift a couple times a month and tonight is one of those times. He's not going to be home for an hour and I'm on my second margarita. I think I've finally mastered the blender. I'm so crafty. Those newfangled appliances won't get the best of me. No sir and no ma'am.
mmmm... tequila.
suzie 06:58 PM CST [link] [4 comments]
Wednesday, July 17, 2002
Ok guys, here's a link to some pictures and a recap from last night. Be warned, there's a very crappy picture of me in the mix. I blurred my face out of some of the images because I'm frickin' vain. But hell, I had sweated off most of my make-up, it was after 2 a.m. so I was exhausted, and the rain had frizzed my hair like crazy. With that warning, feel free to read and check out the pix:
http://www.clumsymonkey.net/phpBB2/viewtopic.php?t=2423
Zack and I bought a cast iron grill at World Market a couple weeks ago. Last week Z sealed it in our oven and tonight he cooked out steaks and garlic sausage. Our balcony isn't very big and right after he started the charcoal 'afire the sky clouded up and it started pouring rain. Zack moved the grill closer to the door and shielded it with his body from the rain. (When it rains here it comes down at a massive angle.) He stuck it out until he brought in some of the BEST steak and sausage I've ever had. I'm serious. I don't see any reason to go to the Outback Steakhouse again. It was THAT good. We finished eating and within ten or fifteen minutes the sun was out and shining. They say that if you don't like the weather in North Texas, wait 10 minutes, it'll change. It's so true. Poor Zack. He loves the sun, but when it taunts him he gets bitter.
Oh well, at least we both got to hug Raine Maida last night. Woo! Or woo for me, anyway.
Woo, dammit!
suzie 09:04 PM CST [link] [1 comment]
That was one of the BEST fucking shows I've EVER been to in my life! I had an awesome time. Greenwheel and Ash were both great, but Our Lady Peace just blew me away. I'm going to post more about this tomorrow, along with some pictures. Yes, we got to meet the band. Woo!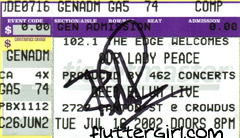 Raine signed my ticket. *sigh*
suzie 03:34 AM CST [link] [4 comments]
Tuesday, July 16, 2002
I am in *such* a good mood! I delayed getting Our Lady Peace tickets until the last minute. Of course, this is ALWAYS a big mistake. The show sold out days ago. Zack tried to get us tickets from a few of those sleazy ticket resellers, but no one had any to sell. Bastards. Anyway, Z called me about an hour ago and told me that The Edge was giving them away. Jessie, the afternoon diva, came on and announced that she had four pairs of tickets to give away and she'd give up the first pair to the first person who could tell her what Naveed means. Woo! I kept getting a busy signal, but I finally got through. I gave her the correct answer and she said I could pick up my tickets anytime before 5:30. RAWK!
Haha - that saved us about $50 with the service charges and everything. But I will never again wait to buy tickets to my favourite concerts again.
Tiff - look for me tonight!! xo
suzie 02:33 PM CST [link] [3 comments]
Monday, July 15, 2002
Some notes from the last run:

If hell existed it would be a kissing cousin to Yuma, AZ. The official temperature while we were there was 112°F. But according to our temp guages it was more like 119°F. The record high in July is 124°F in 1995. Why anyone would want to live there in the summer is beyond me. Crazy bastards.

When checking your oil in a truck beware of the exhaust manifold. I was in a hurry in Eloy and I burned my arm. Here's a lovely picture of my injury a few days after it happened: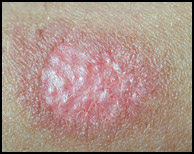 ouch. dammit.

I saw the Harry Potter movie. Once again, the book is much better than the movie. My favourite character was Professor Snape, but only because he looked like Trent Reznor.

Truck driving can sometimes be verrrrry interesting: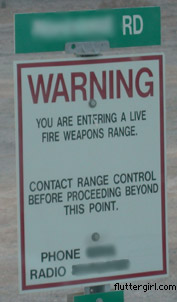 I have some more pictures to share, but they'll have to wait. Pizza is on the way.
By the way - that's Jude Law on the left. Mwah.
suzie 07:21 PM CST [link] [4 comments]
Sunday, July 14, 2002
I'm home again. Finally. I'll be posting some random thoughts and images from my trip tomorrow. I'm exhausted. I need a glass of wine (or two) and a bubble bath.
I hope the new layout is pleasing to all. I haven't had a new one in eons.
Love. You. All.
suzie 10:45 PM CST [link] [3 comments]
Tuesday, July 9, 2002
We were supposed to hit the road at 11, but it's almost noon and we're still here. It's about 10 hours to Albuquerque. Then tomorrow morning I'm off to Yuma, AZ.
We had a great weekend. I really feel blessed with my in-laws. His mom and sister are awesome.
To my shame I've been listening to the new Eminem single "Without Me." Eminem is a homophobic, egotistical ass, but this stupid song is catchy.
I just heard one of the trucks start up so I'd better go. Be good while I'm gone, kiddies.
suzie 11:56 AM CST [link] [2 comments]
Sunday, July 7, 2002
We're still in Austin. We're going to spend another night hanging out with Mom & Kris.
Today as we were on our way back from lunch a blue Ford Ranger passed us that had an I, The Jury sticker on it's back window. I used to LOVE I, The Jury! The singer, Ezra, worked at a CD Warehouse where some of my friends were also employed. He gave me a copy of their cd and I really enjoyed it. They've been broken up for years now. Even when they were together you would *rarely* ever see an I, The Jury sticker on cars in Dallas (where they're from). I know it's silly, but I got excited.
John, I'm really, really sorry I missed the party. I should have called y'all to let you know we wouldn't be able to make it. :( Please don't hate me forever.
While we were standing out in the front yard earlier a couple of punk kids in a blue beat up Mustang drove past and screamed "fuck you!" at us. They were waving their middle fingers at us as they zipped up over the hill. Oh man, I could so easily imagine myself beating them both with a crowbar. Mom thinks they may have been acquainted with Nick, Zack's youngest brother. Damned kids.
suzie 08:23 PM CST [link] [3 comments]
I'm in Austin right now. It's still pissing rain in New Braunfels and San Antonio. Tiff, if you're reading this please know that I LOVE YOU and I'll call you as soon as I can. I'll bet Boogie's parents are flooded out. Schlitterbahn is probably screwed, too. I'm glad I don't live there anymore.
nyah!
suzie 12:31 AM CST [link] [2 comments]
Thursday, July 4, 2002
I just got off the phone with my family. My mom bawled me out for not calling them for two weeks. I am a terrible person. I guess she hurt her foot last week and still can't get around on it very well. To make a long story short, I'm taking off early Tuesday morning in my big yellow Peterbilt for Yuma, AZ. I'll be back on the 15th, just in time for the Our Lady Peace / Ash show on the 16th.
I'm terribly pleased. I'll get to see the EG&G guys again, too. (hi Gerald, sorry I haven't put up the pictures yet. damn me)
suzie 05:05 PM CST [link] [2 comments]
I am the worst person EVER. Not only did I forget Father's Day this year, but yesterday I forgot my baby brother's birthday. I am ROTTEN. To the CORE. Damn me!
Larry, I doubt you read my journal, because you're always off tooling around on that stupid motorcycle of yours... but I love you very much and I hope you had a wonderful birthday.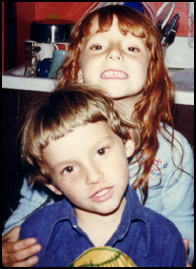 I can't believe he's 27 now.
xo - from your unbelievably self-involved big sister.
suzie 04:18 PM CST [link] [1 comment]
Wednesday, July 3, 2002
I have a birthmark on my right knee in the shape of the number 7. It's always been my "lucky" number because of the mark. My brother has a birthmark on his chest shaped like the number 7. My superstitious mother thinks that means God has marked us for something special. My mom needs medication.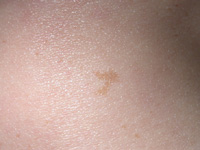 The picture is kind of crappy because of the flash, but it gives you the general idea.
Useless personal facts, courtesy of the girl who couldn't think of anything worthwhile to post today.
suzie 11:56 PM CST [link] [4 comments]
Tuesday, July 2, 2002
Zack brought home roses and sushi for dinner. Hello? We have been married for two and a half years and he STILL makes me feel like we're courting. I'm sorry girls, but I have the *bestest* boy EVER. I know some of my friends have their ultimate partners, but I'm always so pleased with Z that I can't help but comment.
Zack, I love you SO much. I couldn't have dreamed up a better husband than you. You leave me breathless every frigging day. I don't know what I did to deserve you, but I thank my lucky stars every single day. <3
suzie 09:37 PM CST [link] [5 comments]
Monday, July 1, 2002
A conversation between me and the nurse who was taking my vitals before the doctor came in:
Nurse: Are you taking any medications, like birth control pills?
Me: Nope.
(she gives me a quick glance)
Nurse: Are you sexually active?
Me: Yep.
(she throws me an extremely dirty look, as if I'd announced that I share needles with my prostitute crackwhore friends and sell babies on the black market in my spare time.)
Nurse: You're not on birth control and you're sexually active?!? Do you really think that's wise?!???
Me: (sarcastically) Well, my husband and I were planning on waiting until we hit our thirties to start a family, but if we had a baby in a year it wouldn't be the WORST thing in the world.
Nurse: (now looking at me as if I were a young child who had said something extremely bright) Ohhhh! You're MARRIED! That's wonderful!
Me: Yeah, for two and a half years.
Nurse: (all sugar and lollipops) Why do you want to wait so long to start a family?
Me: Nunya dayam bidness, ho!!
Haha, I didn't really say that to her. However, I thought it very loudly in my head, which gave me a small measure of satisfaction.
Mmmm... carrot juice.
suzie 05:35 PM CST [link] [7 comments]
I'm about to spend hours at the fucking doctor's office. Fuck, fuck, fuck, fuck. I think I'm going to scream my fool head off in the car before I go in so my voice will be hoarse and everyone will think that I've got a terribly contagious cold. Maybe I'll be rewarded will everyone shunning me and I'll get my own corner in the waiting room. &$#%!!!!
suzie 09:25 AM CST [link] [2 comments]