bio

pix

europe

links

soundgarden

chris cornell

contact

naughty dolls

home

Thursday, February 28, 2002
Just got in from Jackson, MS. Tired now. Gotta get up in less than five hours to fly to Jackson again and bring back another truck. The stupid alternator on today's truck ('95 Freightliner) started going out about 150 miles from Dallas. I eased it in, though. The highlight of my day was the jet we rode in this morning. It was NEAT. Sleeping time, bye-bye.
fluttergirl 12:20 AM CST [link] [2 comments]
Tuesday, February 26, 2002
RAWK!!! I just found out that Jimmy Fallon is going to be doing his stand-up act on March 26th in Arlington (30 miles away). Tickets go on sale on MY BIRTHDAY, March 4th. Zack and I are SO going to see him. Hehehehe, I'm giddy. :) Look for a picture of me and Jimmy Fallon in about a month.
Woo!!!!
fluttergirl 05:57 PM CST [link] [3 comments]
It's official. Your-Site.com SUCKS. They screwed up my user name to begin with. "A scripting error." To change your password you have to fill out a form and they have to do it manually. They didn't change my forums user name to match my master user name, even though I asked them repeatedly about it. And to top it all off, I posted the question in the actual forums, and they changed my user name to match my master user name and DIDN'T TELL ME. And I thought Hostsave was a shitty hosting provider. I'm giving this one last shot, but if it doesn't work I'm writing a scathing letter to the company and getting my money back.
This is no reflection whatsoever on anyone who recommended Your-Site to me. I'm sure they're working out fine for you, but I think their technical support team are complete idiots. :)
fluttergirl 09:09 AM CST [link] [8 comments]
Monday, February 25, 2002
Well, we didn't see any bald eagles on Sunday. A guy from the park said it was too sunny. Eagles like bad weather. Stupid eagles. It was a blast, anyway. Mom got up early and made breakfast tacos for us to eat before we got on the boat. Then while we were out on the water she gave us wine and cheese. And after the trip we went to a beautiful place overlooking the lake and she fed us sandwiches and cookies. Oh, how I love that woman.
This morning I picked up a truck and drove to Oklahoma City. It was a nice little run. We flew home. I can still taste the bloody mary mix from the plane. The wine and pizza is slowly killing it, though.
One of the funniest things I see when I'm on the road is how frustrated SUV drivers get when they try to intimidate people in semi trucks. Sure, a person in a Honda Civic is going to be a little unnerved when a huge Lincoln Navigator runs up on them and rides their ass until they get out of the way. But these SUV drivers think they can intimidate truck drivers? Ha! Again, let me say... HA! Truck drivers have a name for people who ride their asses on the highway. "Bumper stickers." Let me assure you that your high priced piece of fiberglass is sooooooo not scary. Besides, I can see all of the crap you keep on your floorboards as you fly past me in frustration (after I finally get out of your way, ever sooo slowly). Rawk.
I love y'all. :)
fluttergirl 07:58 PM CST [link] [3 comments]
Saturday, February 23, 2002
Good morning, dahlings. I'm in lovely "north-of-Austin." Today we're going shopping - one of my favourite things in the world. Tomorrow morning we're going on a river cruise to spot bald eagles. Woo! I don't think I've ever seen a live bald eagle outside of the zoo. The San Antonio zoo, that is. I remember there was a sign outside the cage that said "Please do not throw coins at the birds." And, of course, every other idiot that came along had to dig in their pockets for change.
I changed my index page again. I used my desktop image. Yes, it's Jimmy Fallon. Yes, I am a geek.
Love me. <3<3
fluttergirl 10:05 AM CST [link] [2 comments]
Friday, February 22, 2002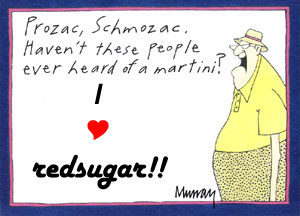 Thanks Tanya!! You RULE!
fluttergirl 11:09 AM CST [link] [4 comments]
Sorry about the rant last night, kids. We're getting slammed with Yates news here in Dallas. And then there's another guy who killed his two little girls while he was on the phone with his ex-wife, just to get back at her for something. Then he left his loft in Deep Ellum and went drinking at the bars. *anger rising*


I spent the morning downloading Weekend Update clips. I've got almost all of them. My favourite line so far? "I can't marry you. I just got Playstation 2. It's very time consuming." (Jimmy Fallon, 11.4.00) I now have 228 mb of SNL stuff, mostly WU. Help meeeeeeeeee...
<---------- Just too frigging cute.

I've changed the name of this journal from "ye olde blogge" to "absolutely fabulous." I've taken a fancy to the show. So if I call you "sweetie" please know it's not because you're actually sweet (although you probably are), but that I'm just very easily influenced by television. :)
That sounds so bad. I don't even watch tv during the day. The first time I turn it on is at 5 p.m. (every weekday) for two hours of Buffy reruns. Then Z and I either watch it or let it play in the background while we work on computer stuff. Ok, you people care a lot. I can tell.
We're taking off this afternoon for Austin. I'll be updating from down there, hopefully with blurry pictures in the mix. <3<3
fluttergirl 09:58 AM CST [link] [7 comments]
Thursday, February 21, 2002
Andrea Yates murdered her children. She admits it. But she's pleading insanity to try and get away with it? If she loved her children so much then why would she WANT to live now? She's been on medication and in therapy for almost half a year now. How could a person *want* to live after killing their kids in cold blood? The woman is fucking nuts and she needs to be executed. Blessings on the Texas death penalty. I only wish she could be placed in a tub of water and held under until she drowned... instead of being "put to sleep." Fucking evil BITCH.
fluttergirl 09:20 PM CST [link] [3 comments]
I was out moving trucks around town all day. And the boss said she might have a truck coming out of Salt Lake City in a few days. Woo!
When I was on the highway I passed a Texas Correctional transport bus. They look like regular school buses, but they're an off-white colour. The windows are heavily tinted and covered with a thick metal grate so the inmates can't be seen from the outside. Anyhoo, right after I passed it, the damn thing went to pass me again. Except instead of going around me it stayed right next to my vehicle. I never make eye contact with strangers on the highway, so I tried to ignore them. I finally glanced over and saw one of the guards standing in the stairwell staring at me. Ewww. I couldn't see any faces in the bus windows because of the tint and the grate, but I knew they were there. How frigging creepy. After about a minute of this I slowed way down so they would finish passing me. They slowed down, too. I finally reached into my backpack and pulled out my camera. I turned it on and pointed it right at the guard in the stairwell. He did an about-face and the bus took off faster than I've ever seen a large vehicle move. Blech!!!
<3<3
fluttergirl 06:19 PM CST [link] [7 comments]
Tuesday, February 19, 2002
Almost forgot... Raspil has created possibly the coolest layout, ever. It features Chris Cornell and it's meant to be viewed at 1024x768 resolution. Check it out here. I'm angry and bitter that I have no comparable talent. <3
fluttergirl 08:29 PM CST [link] [3 comments]
No Gilmore Girls. No Smallville. They're showing reruns of Buffy. But Ashton Kutcher is modeling underwear on That 70's Show. Sometimes life is fair.
I've been so blah lately. I don't know what my problem is. I feel... off. I'm spacy. I blink and ten minutes has gone by. I find myself sighing for no reason. Not even coffee is helping.
We're going to Austin this weekend. Maybe that will snap me out of this funk. We're supposed to go on a nature cruise to see some bald eagles. Rawk.
My soon-to-be-ex hosting company was hit with a DOS attack today. I can't send or receive mail. My new hosting company is slower than snail snot in helping me set up my account, so I haven't finished the transfer yet. Dammit.
I can't think of anything else to gripe about right now. Love me.
fluttergirl 08:12 PM CST [link] [3 comments]
Sunday, February 17, 2002
Ween - Push th' Little Daisies.mp3 | 2.57 mb
mp3 expiration date: 02.24.02
I know I haven't posted much the last few days. I considered copying some stuff out of my paper journal, but that might change your perceptions of me. And we couldn't have THAT, now could we?
Today we went out to my parent's house. We were going to spend the afternoon fishing, but we both forgot that if we don't bring Zack's truck we can't get the boat to the lake. My parents weren't around and I couldn't find the keys to any of their vehicles. Damn the luck. We ended up drinking their beer and lounging around the pool. Woo.
I just watched the Canadian figure skaters accept their gold medals while standing next to the Russians. I don't think there was much love lost between those two girls, eh?
I'm tired. Dammit.
fluttergirl 10:36 PM CST [link] [4 comments]
Saturday, February 16, 2002
I met up with my boss on Thursday to have coffee and pick up my check. I ended up spending an hour listening to her tell me how bad business is right now. As if I'm not already painfully aware of this fact. She complained a lot about her main competitor and ex-friend, Karmy. Blah, blah, blah. I could tell she was working up to something. Eventually she got to the point and asked me if I could burn some candles and work some Pagan magick in order to bring down Karmy. She was -totally- serious. This from the woman who argued vehemently with me against cremation, because, according to THE BIBLE, if you're not buried with your body intact you don't get into heaven. Riiiiiight. I explained to her that I couldn't work any mojo on anyone. The look of disappointment on her face was priceless. I don't think she really believed me. Oh well.
Tom Dunning got his ass SPANKED today by Laura Miller in the Dallas mayoral election. :) All of his boasting and name-calling during his campaign makes this loss extra sweet. Go Laura!!
Jeremy: I tried to email you but AOL bounced my message back. Fix your mail controls and email me again, dammit.
fluttergirl 09:22 PM CST [link] [4 comments]
Friday, February 15, 2002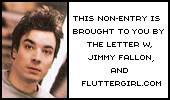 Your regularly scheduled suzie will return tomorrow.
<3<3
PS - haha, I have baby pictures of Jim wearing a DRESS. >:)
fluttergirl 07:35 PM CST [link] [5 comments]
Thursday, February 14, 2002
I got a reply from my new hosting company regarding the FTP mix-up. They didn't explain or apologize or anything. They DID give me the wrong FTP information yesterday. *My* FTP user name has a number behind it. Am I to understand that I can get into other hostee's files with this information? I may be dumping this company soon. My site doesn't have any top secret information, but the thought of someone getting into my files creeps me out. More on this later.
Happy Valentine's Day all! <3<3
fluttergirl 11:50 AM CST [link] [3 comments]
Wednesday, February 13, 2002
I was going to start transferring my site to my new hosting company today, but it turns out they gave me someone else's FTP information. I could have done some serious damage to their site. Luckily I'm not that kind of girl. It worries me that someone else could get into *my* files, though. ("You got hacked!") Ha. No big deal. I guess I'll just make sure to backup all of my files every day or two. It's not like my site is a gazillion gigs or anything.
Sooooo... nothing else to report. Today was quiet in a "you need to go back to school or get a full time job" kind of way. I downloaded and watched Our Lady Peace videos. Woo.
fluttergirl 03:51 PM CST [link] [1 comment]
Tuesday, February 12, 2002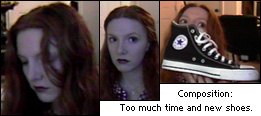 ...and no inclination to operate the vacuum or do the dishes.
fluttergirl 04:06 PM CST [link] [6 comments]
My so-called "allergies" are at it again. I'm snotting all over the place. I feel like a small, very active chicken has been stuffed up my nose. It tickles and I keep sneezing. I used to enjoy a good sneeze. That was before I went in for mass production. #$%&!!
I got some new Chucks yesterday. :) I'm terribly pleased. As we were walking out of the shoe department an older man (who looked respectable to me, but Zack thought he was shady) stepped in front of me and mumbled "If you're paying cash for shoes I can save you some money." He never looked at me while he was saying this. I said "No thanks, we're paying with our credit card." Then I stepped around him and didn't look back. Zack said that as the man was walking past him he mumbled "Won't work." Frickin' weirdos are everywhere. I'm kind of curious what his scam was, though.
Speaking of new Chucks, check out my future shoes: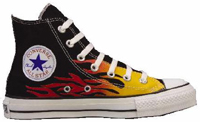 Possibly the coolest shoes, ever. I'm in love. <3
fluttergirl 08:51 AM CST [link] [4 comments]
Monday, February 11, 2002
MuahHAhAHAHa!! I got the new Spin magazine.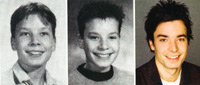 Cute little bugger, wasn't he?
Zack is making us artichokes for dinner. :) I love it when he cooks. He's making a poblano/garlic sauce along with it. He accidentally dropped a piece of garlic on the floor and one of our little scavengers (Zoë) scarfed it up before he could get it. Now she REEKS. I wonder if I forced some tomato juice down her gullet it would kill the smell? Argh.
fluttergirl 04:48 PM CST [link] [1 comment]
When I kick the proverbial bucket I want to be cremated. It would be nice to have a memorial stone (with something like "I told you I was sick." or "I'm standing right behind you." on it.), but it's not necessary. Some people want the whole enchilada when they die. If you're one of those people... Webcaskets.com is for you! Check out one of their fine specialty models:


If you're looking to go back to where you "came from," this puppy is for you.
They have coffins for almost everyone.
University Alumni? They offer coffins in each of the following school colours (along with the school insignia on the inside lining): Kentucky, Arkansas, Indiana, Iowa, Tennessee, and Georgia.
There are coffins with Aids Awareness and Breast Cancer Awareness ribbons on them. Want something more ornate? How about "Cathedral Glass?" Are you a golfer? They have a special model called "Fairway To Heaven!" You can get coffins with mountain ranges, flower gardens, huge rosaries, crosses on a hill, angels, a lighthouse, and "Hawaiian Paradise." If you're a race car driver there's one called "Final Lap." For firefighters there's a red model that features a firetruck, a dog, and some firemen putting out a blaze. If you're super Christian they have two (yes, TWO) versions of "The Last Supper." Texas and New York each have special caskets available. What's that? You want more? How about "Our Lady of Guadalupe," "Salt Lake Temple," "Sunset," "Clouds," "Thanks and Praises," "The Beach," and various other outdoor scenes. It's a funeral director's dream come true! :)
Webcaskets.com - Click on "Caskets" and then on "Specialty." The more interesting models start on page three, methinks. If something strikes your fancy you can click on the casket and look at the interior or a higher resolution picture of the outside. Woo!
Morbidly yours,
fluttergirl 08:21 AM CST [link] [3 comments]
Sunday, February 10, 2002
Over the next few days I'll be transferring this whole frigging site to a new hosting company. Hopefully it'll go off without a hitch and no one will notice a thing.
New song download:
Dean Martin - Ain't That a Kick in the Head.mp3 | 4.42 mb (right click: save as)
mp3 expiration date: 02.17.02
The March issue of Spin has Jimmy Fallon on the cover. :)
fluttergirl 03:44 PM CST [link] [2 comments]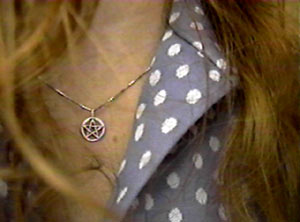 )O(
Why can I never remember NOT to drink orange juice right after I brush my teeth?!? It's going to be one of those days, lemme tell ya.
fluttergirl 10:59 AM CST [link] [3 comments]
Saturday, February 9, 2002
I've become one of those people who uses a celebrity as the image on their main page. *sigh* Oh well. Check out my new main page. Jason Behr. Woo! Hey, at least it isn't Angelina Jolie. I like Angelina, but so many people use her on their websites. I'm different! Really! Ok, whatever.
We were supposed to go to Austin this weekend, but I wasn't feeling good yesterday and my mother-in-law wasn't feeling good and Zack had to do some work for the not-for-profit place he volunteers at, sooo... here I am. I didn't do crap today but mess around on the computer. Damn me.
Goldfinger is on tv. I'm not into James Bond, but regardless of how I feel they keep making the movies. Zack and I were discussing who would be the next James Bond (after Pierce Brosnan is too wrinkly to continue). I suggested Ewan McGregor. Hey, he's a hottie and it would give me a reason to watch a James Bond movie. Zack said no way to Ewan. He suggested that lawyer from The Practice. We've never actually SEEN an episode of The Practice, but they show previews of it on FX while I'm watching my daily requisite two hours of Buffy. I guess he looks like a James Bond kind of guy.


Oh damn! Why didn't I think of this for MY BlogSnob description?!?
Not.
fluttergirl 08:31 PM CST [link] [3 comments]

I guess I don't have to worry about spending my last day doing laundry after all.
fluttergirl 03:50 PM CST [link] [1 comment]
Friday, February 8, 2002
When I was nineteen years old I went with a friend to look at guitars in a pawnshop on the south side of San Antonio. I'd always thought that pawnshops were kind of sleazy and this experience confirmed it. While my friend was looking at the guitars an elderly Mexican couple came in. The lady was crying and the man had a sad, determined look on his face. I don't speak Spanish, but the clerk filled me in later. (I'm nosy and it disturbs me to see people cry, especially when they're old and helpless looking.) The couple were dirt poor and needed money very badly. The man decided that they had to sell an old ring that had been in the family for generations. The woman didn't want to part with the heirloom. It obviously meant a lot more to her than money. She kept clutching at the man and wailing. The man pawned the ring and led his sobbing wife away. It broke my heart. This is why I never buy jewelry from a pawn shop. For me it's just bad, bad karma. Sure, some people pawn stuff for legitimate reasons. But many things that end up in those places are stolen or pawned out of sheer desperation. How could I wear a piece of jewelry that had an unknown background?
Go ahead and mock. I don't care.
fluttergirl 01:42 PM CST [link] [11 comments]
Thursday, February 7, 2002
This afternoon I went out to my parent's house. My mom needed some help navigating the internet. I'm so proud of her for trying. She called me over to the computer because she couldn't understand why http://www...seedcatalog.com wouldn't load. Then, to top it all off, my dad actually *laughed* at her. Last year dad had no idea what a website was. My parents are so cute sometimes.
fluttergirl 08:00 PM CST [link] [3 comments]
More than 140 people escaped from Texas jails last year. However, most criminals run to other states as soon as they break out. It's good for Texans and bad for Oklahomans and Coloradites.
I remember once in middle school a history teacher told my class that if every dead person buried in the ground were suddenly able to stand up we would all be suffocated by moldering flesh. When I was in high school one of my history teachers described, in detail, the horrors of gangrene and worm filled biscuits. This was during our study of the Civil War. History teachers have a morbid streak a mile wide.
Zackery fixed my car. I like to let him do things like that for me, because it really irks him that in our respective professions he's white collar and I'm blue collar. He's in network security and I'm a truck driver. Whenever I tell other truck drivers that my husband is a network security guy they automatically think he's a security guard. Like he sits on his ass in the lobby of a bank or something. Then I tell them "He stops hackers from breaking into computers." Their eyes get really round and they're impressed. Computers are still exotic and unfamiliar to most of them, unless you count electronic slot machines.
Off to the post office. <3<3
fluttergirl 09:37 AM CST [link] [4 comments]
Wednesday, February 6, 2002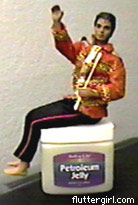 At least my afternoon wasn't a total loss.
fluttergirl 03:55 PM CST [link] [4 comments]
My stupid car won't start. Is there any sound more frustrating than that click-click-click noise?!? Dammit, I have to go to the post office because I'm expecting a dress in the mail! I have to get a Valentine gift for one of my redhead sisters!! I HAVE AN APPOINTMENT WITH MY OPTOMETRIST!!!!
I have to stop drinking so much coffee.
fluttergirl 02:47 PM CST [link] [5 comments]
Tuesday, February 5, 2002
It's snowing!! It's snoooooooowing!!! I love it! I wish I could spend hours in it. I want to go sledding. I want to make snowmen and snowangels and snowforts and I want to pelt strangers with snowballs. I really miss these things.
Tomorrow it's supposed to be gone.
Oklahoma is soooo much prettier when it's covered with snow.
fluttergirl 09:30 PM CST [link] [3 comments]
I'm making a little trip to Oklahoma this morning. It's pissing rain out, which should make for some looooovely traffic. One of the reasons I enjoy driving big trucks is that I'm so much more calm in traffic. In my car I scream and curse and foam at the mouth when I see brake lights in front of me on the highway. In an 18 wheeler I just kinda sigh and turn my music down and wait it out. Maybe it's because I can see fifty miles ahead of me, instead of two car lengths. (Slight exaggeration.)
Gunn and Fred smooched on Angel last night. I'm actually starting to enjoy the show again.
fluttergirl 06:35 AM CST [link] [5 comments]
Monday, February 4, 2002
In 28 days I'll be 28 years old. I'm getting disturbed. One of the worst parts of aging (other than the ever-growing "punk kid" population) is that I'm getting older than some of my favourite book and movie characters. Woe.
The Superbowl... zzzzzzz... oh sorry, what was I talking about? Oh yeah, football. Quite possibly the most boring sport ever. Not quite as dull as golf, but not as interesting as bowling. The games take FOREVER. The players run for three seconds and then stop for five minutes. They run for five seconds and stop for ten minutes. Then I scream, inside, for fifteen minutes. Why did they have to sing the National Anthem THREE times? I'm all for being patriotic, but did we really need to watch that washed-up hag, Mariah Carey, "perform?"
Thanks to everyone who responded to my hosting question. (/me waves to Vikki) It looks like Your-Site.com is the #1 choice. Hey, you can't beat $5 a month, and it can't be any worse than my current hosting company.
I won the 2002 Blorgi Award for "Best Fashion Sense." It's my first award. I'd cry if I hadn't used up all of my tears during my frustrated wait for the stupid Superbowl to end.
Since I'm such a rotten copycat I'm going to start posting songs on here for download, ala Tanya. Give a listen to one of my favourite "hard alternative/rock" bands, Slow Roosevelt:
Slow Roosevelt - Zodiac Sign | 2.78 mb (right click: save as)
mp3 expiration date: 02.11.02
fluttergirl 10:36 AM CST [link] [5 comments]
Friday, February 1, 2002
I'm finally home. I just drove 14 hours with one five minute break and one fifteen minute break. Supertrucker, right? Ha. I'm so tired. The truck was ok. 1999 Freightliner. All kinds of digital gizmos to play with. Woo. When I picked it up in Newman, Georgia, it was infested with ladybugs. I've never seen so many ladybugs in my life. I opened the door and they bumrushed me. I must have swatted out fifty, accidentally crushed twenty, and there were still about ten of the little bastards flying around during the trip.
I almost stopped to sleep in Shreveport, but I got my second wind while I was fueling up. It's so good to be home. I would have been here sooner, but the stupid truck would only run 67 mph. #$%&!!!
Time for a shower and sleep. Yay.
fluttergirl 02:34 AM CST [link] [6 comments]