bio

pix

europe

links

soundgarden

chris cornell

contact

naughty dolls

home

Friday, October 18, 2002
Hi. It rained all day. I love it. Half of Dallas is floating away.
I liken it to flushing the toilet. Sainara, you bastards. :)
I'm ok. Really. I'm not hateful and bitter toward living in this flat, fake, urban hell.
Yeah.
Ok Go is on Jay Leno tonight.
/me likes Ok Go.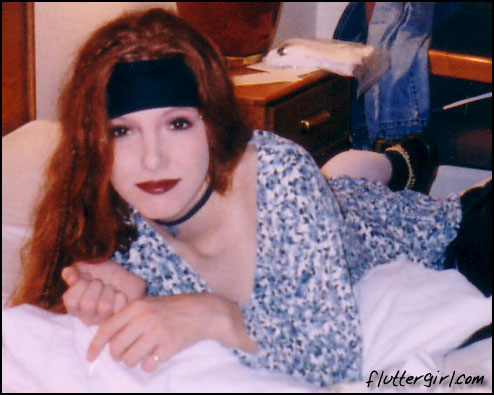 suzie 10:29 PM CST [link] [9 comments]
Thursday, October 17, 2002
Rock it like a porn star, slap a little ass...
Sprung Monkey - Party Like A Rock Star (Kick A Little Ass).mp3 | 4.95 mb (right click: save as)
mp3 expiration date: 10.24.02
I just have to say... the last episode of Smallville (Red) was the BEST episode EVER. Jeezly crow, that Tom Welling is a major hottie.
Ok, I'm done now.
As of this moment we have 5,767 files (mp3s, videos, tv shows, & movies) available on WinMX. I changed our user name to mmmnoodlesoup_777. If you see me on, say hi. Damn you.
suzie 10:17 PM CST [link] [3 comments]
Tuesday, October 15, 2002
Zack wants to buy a new television. Specifically, this television. I'm not completely sold on the idea yet, but he seems to really want it. It's kind of funny that he earns the major majority of our income, yet he comes to me for permission to make a purchase. Gosh, I love him.
AND right now he's reading Harry Potter & the Chamber of Secrets, because I want to see the movie as soon as it's released. He rocks.
He bought me this geek tank top. UPS delivered it today. Ye Gods, how did I manage to find such a guy? Not only is he sweet, HOT, funny, trustworthy, and wicked good in the sack, but he still sends me surprises that make me grin like a fool all day long? I can't believe we've been married for almost three years now. It's crazy. Sometimes he'll just give me The Look, and I'll giggle & blush like a teenager.
Life is good, my friends. Life is damn good.
suzie 10:19 PM CST [link] [6 comments]
Sunday, October 13, 2002
Woo, I am so cool. I got another fansign last night.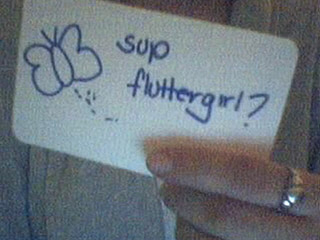 Thanks Tiff!! I'm going to make some fansigns this week.
A cold front blew in last night. The weather is glorious. I love the winter.
My parents called me yesterday from Tennessee. They're on their way to Virginia & Maryland. Mom didn't seem too concerned about the sniper. I'm concerned, though.
Stop! Bubble bath time.
suzie 08:18 PM CST [link] [3 comments]
Saturday, October 12, 2002
It's crazy here in Dallas this weekend. The TX/OU (Texas/Oklahoma) game is going on right now. Those zany Okies have invaded our lovely city and are clogging the highways with their shitkicker vehicular mobiles. :) Just kidding. Most of them are in SUVs and drive like they're auditioning for The Fast and the Furious 2.
Zack is glued to the tv. Every time TX scores he makes the obligatory male football grunting noises. ("ooof! FUCK YEAH! wooooo!")
I left WinMX on again last night because I'm trying to download the last Smallville episode, Duplicity. I was very pleased to see one of the files was complete this morning. I opened it and found myself watching a very badly done amateur Asian porno. Blech! I was wondering why so many people with Asian user names would be interested in that particular copy of Duplicity. Now I know.
You would think that the FBI would use p2p programs to chase down kiddie porn perverts. When I get bored I browse other people's files to see if they have anything I want. It's crazy how many of them have "preteen" or "kiddiexxx" file names. I always block them from downloading anything from me. Bastards.
Check it out... my first fansign: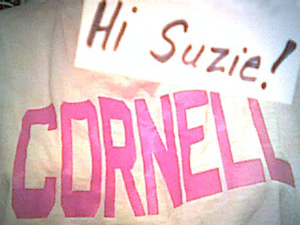 Thanks Raspil! I'm sorry I wrote your name & website URL on all those bathroom walls.
suzie 05:25 PM CST [link] [4 comments]
Thursday, October 10, 2002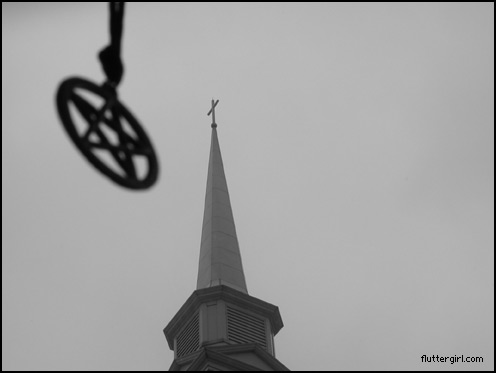 Can't we all just get along?
suzie 10:11 PM CST [link] [5 comments]
Wednesday, October 9, 2002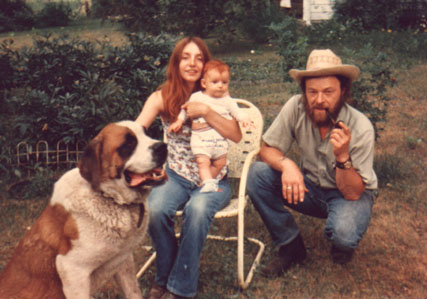 They used to call me Baby Huey. Yes, my parents were hippies.
How do you think I ended up with the middle name Little Brave?
suzie 10:42 PM CST [link] [10 comments]
Tuesday, October 8, 2002
I think the question we must ask ourselves is:
"Is this a two martini kind of night?"
Yes, damn you. This is a two martini kind of night. What kind of effing fool do you take me for?
Gods bless Tanqueray. You damn skippy.
suzie 10:11 PM CST [link] [3 comments]
Monday, October 7, 2002
The Dr. appt. today went ok. I was five minutes late, thanks to stupid effing traffic on 75... those rotten evil bastard drivers. Some pseudo-blonde chic in a blue BMW was terribly angry because she couldn't get around me, no matter how often she changed lanes. Ha. Ha! I say. Some woman driving a Volvo wanted into my lane, so I slowed down and let her in, even though I was running late for my appointment. Why? Because of a certain cool redhead who drives a Volvo. This really infuriated the Beemer chic. She can kiss my lily white ass, though. :) Ha.
Dr. started me on BP medication. I have another appointment for Samhain, so we'll see if it helps me or not.
The luscious Leslie emailed me last night about a brief visit at the end of November. She also said I have a "stellar rack." She has some bodacious tata's herself, but that's neither here nor there. :) I got her on the phone and we gabbed for a good half hour. She's going to be sleeping over on November 19th. Get your minds out of the gutter! I'm married now, thank you very much. That doesn't make Les any less hot, though. *rawr*
I made a single-page website for my dad (so far). Some of y'all may recall how I forgot Father's Day? In a quest for redemption I registered & paid for hosting on the domain LittleStarTrucking.com. I'm going to add some pictures of their beloved dogs & equipment soon. And me, dammit.
Dammit.
Best condiment ever: ketchup
Second best condiment: Tabasco sauce
suzie 09:24 PM CST [link] [7 comments]
Sunday, October 6, 2002
Zack took all of last week off from work. :) We went down to Austin for about five days to visit the in-laws. Last Saturday we went to New Braunfels & San Antonio to visit friends. We also drove down River Road to Canyon Lake. It had been about a month since the flooding. River Road is all torn to hell. Here are some pictures from the dam (click for a larger image):




Sorry for neglecting my email again. It's so frustrating to do anything with a dial-up connection. (The in-laws don't have high speed access.)
Friday afternoon we helped my brother & his girl move into a new apartment in North Richland Hills (aka: suburban hell). We weren't there five minutes when their downstairs neighbors appeared on his porch with a pair of binoculars. Creeeeeeeepy.
suzie 01:45 PM CST [link] [5 comments]