bio

pix

europe

links

soundgarden

chris cornell

contact

naughty dolls

home

Tuesday, January 29, 2002
Rawk. I'm flying out early in the morning for Oklahoma City and bringing a truck back in. Then I'll run local stuff for the rest of the afternoon. Tomorrow night I fly to Georgia for another truck and bring it back in. I -love- my job.
fluttergirl 08:06 PM CST [link] [2 comments]
This guy has serious problems. <---- Can anyone help a sad, pathetic loser out?
I used to make these for my car all the time. People kept stealing them. I think the last one was taken during a Jane's Addiction concert. Darned kids.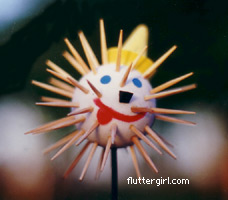 Hellraiser Jack.
After sitting through Modern Vampires (aka the worst movie EVER) Zack and I started naming other *really* bad movies we've seen.
Me: The Road To Wellville. It's the only movie I've ever seen in the theatre that I've wanted to walk out of. It held the 'worst movie EVER' title prior to Modern Vampires.
Zack: How To Make An American Quilt. His thoughts while watching it - "I don't care HOW hot she (Winona Ryder) is. This isn't worth it."
It must have been pretty bad.
I still need to find a new hosting company. If anyone has any suggestions, please let me know. I'm trying to keep it under $15 a month, mmmkay? Thanks.
fluttergirl 06:17 PM CST [link] [5 comments]
Monday, January 28, 2002
<3 Jim. I'm sending all kinds of positive thoughts your way, toots.
And Les, you too. <3<3
The gay guy won on Fear Factor tonight. Woo! Here's to hairdressers everywhere!
The weather here is un-freaking-believable. 74 degrees today. Global warming SUCKS. It's 8:30 and I still have the balcony doors open. The weather channel says it's 68.
You know what else really irks me? Those Clearasil commercials where the stunning model with perfect skin looks in the mirror and says something like "Oh great. Where did this pimple come from?" The silly bitch doesn't even have PORES, much less a blemish. Stupid advertisers.
Aaaaaand... scene.
fluttergirl 09:04 PM CST [link] [2 comments]
Sunday, January 27, 2002
Z and I went out to my parent's house for the afternoon. Z fixed the lights on their new Peterbilt and then we took the dogs for a walk in the cemetery. We decided not to name our future children Agnes, Mattie, or Virgil. Afterward I kicked his ass at pool. Now we're at home watching Modern Vampires, possibly the *worst* so-called horror movie EVER. Not even the hotness of Casper Van Dien can save it. And that's pretty awful.
Exploitation at it's best: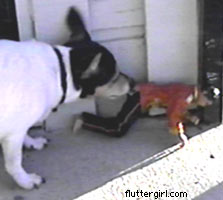 fluttergirl 09:06 PM CST [link] [2 comments]
Saturday, January 26, 2002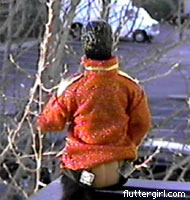 It's lonely at the top.
fluttergirl 09:34 PM CST [link] [1 comment]
Friday, January 25, 2002
I don't think Zack appreciated the whole Wham! boobies picture, so it's gone. My boobies feel so unpopular.
My mom bought me a Wham shirt in 1985. I used to alternate it with my Michael Jackson, Cyndi Lauper, and Go-Go's shirts. I'm on an 80's kick tonight. Yes, I still have the "Wake Me Up Before You Go Go" 45. Gawd.
If you watched the Pink Panther as a child you HAVE to listen to this techno remix of the theme song. It kicks *so* much ass: Pink Panther Theme (Techno Dance Mix).mp3 (right click: save as)
mp3 expiration date: 02.01.02
HAPPY BIRTHDAY, CHICA!!!!!!! Much love to you, girlie!
More nudie Jacko doll pictures tomorrow, luvs.
fluttergirl 08:12 PM CST [link] [18 comments]
Thursday, January 24, 2002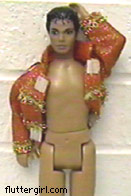 I wonder why they gave him a navel?
My Vicodin vacation is over. Tomorrow morning it's back to the trucks. Just local stuff, though. Next week... who knows? Maybe I'll get back out to Vegas again. Woo.
fluttergirl 10:19 PM CST [link] [6 comments]
Wednesday, January 23, 2002
It's 71 effing degrees outside, and it's supposed to get up to 74. THIS IS NOT PROPER WINTER WEATHER. Tomorrow it's going to be in the 40's again, which is more acceptable. Stupid Texas. Stupid weather. God, I'm crabby today. It's got to be the humidity. I have the balcony doors open. The weather is so balmy I feel like I should be hanging out by the pool.
While I was out at my parent's house last week I rescued a big bag of old Barbie dolls from the storage building. Did you know that Ken was a crossdresser AND a prostitute? 'Tis true.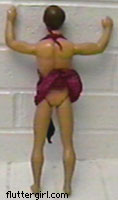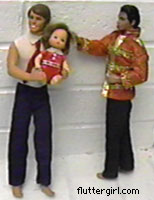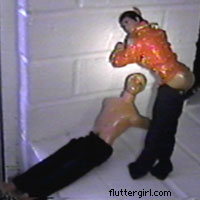 I was such a big Michael Jackson fan when I was a kid, my brother got me his doll for Xmas one year.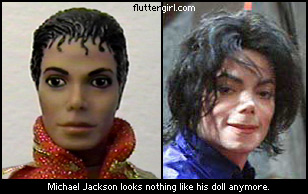 Which is scarier? The pictures... or the fact that I posed all these dolls FOR pictures? Hey, a girl needs a hobby.
fluttergirl 01:27 PM CST [link] [13 comments]
Tuesday, January 22, 2002
Regarding Camp X-Ray, I think Jimmy Fallon really nailed it:
"Why are you trying to improve their living conditions? They're suicide bombers! They HATE living conditions! They don't WANT to live under ANY condition! And if you make them live better... THAT'S inhumane!"
I was out at my parent's house last week, digging through the big-ass storage building in the back field. Laying on top of a box of old papers was this: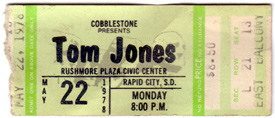 Jeez. $8.50. You can barely see a local band for that price anymore.
It was such a random thing to find. I showed it to my mom and she told me a story about panties being thrown onstage and Tom stuffing them in his mouth. Yummy.
fluttergirl 08:35 PM CST [link] [5 comments]
Monday, January 21, 2002
Mmmm... vicodin.
The extractions went well this morning. Once the numb stuff kicked in the procedure didn't take long. The worst parts were the crunching noises and the bone saw. Tooth saw. Whatever kind of saw it was. It sucked. I wish I had brought along my Discman.
If you ever have your wisdom teeth removed, bring your own music.
Afterward we went to the closest pharmacy, Kmart, to get my loverly Vicodin. The only thing I could say halfway coherently was "Timmmmy!!" It's a good thing that Zack is fluent in gibberish. While my prescription was being filled we browsed the cosmetics. I started drooling blood in front of the Cover Girl display. Zack went running for a tissue and I found a new lipstick (Lipfinity, nonetheless). Good times.
Thanks to everyone for all the happy thoughts directed at me. I really really really appreciate it. I'm feeling pretty lucid this evening. Yay.
I'll start answering my email again tomorrow afternoon. If you've written me and not received a response yet, I should get to you soon. If I don't, please feel free to write again and call me names.
fluttergirl 06:12 PM CST [link] [7 comments]
Sunday, January 20, 2002
The museum... some of that newfangled stuff is just bizarre. I mean, how can two big canvases, one painted white and one painted black, be considered art? Art worth hanging in a museum? I just do not get it. The piece looked like this:

My personal belief is that if *I* can create it... it's NOT art.
Otherwise, the museum was good.
Last night's Weekend Update (SNL) was so funny, I laughed until I cried. "Awwww, snap!" Jimmmmmy.
Today we played a couple rounds of minature golf. I gave us each alter egos. I was "Mitzi" and Zack was "Skip." Mitzi sooooo kick Skip's ass. Damn, I'm good.
Tomorrow morning at 9 I'm having my wisdom teeth taken out. I'm a little nervous. They better give me some damn good painkillers. I write better on painkillers. Woo.
Zack is bummed because B.B. King is advertising for Burger King. I can sympathize.
<3<3 to Jim. I hope tomorrow brings good news.
fluttergirl 07:01 PM CST [link] [4 comments]
Saturday, January 19, 2002
Why do people BOTHER to sign up for sites with envy.nu? Every single time I try to visit somebody hosted with them it takes FOREVER to connect. Dammit. Don't you people know that the internet exists only for MY personal satisfaction and pleasure? Get with the frickin program already.
:)
Zack and I are going to spend the afternoon wandering around the Dallas Museum of Art. I love lazy Saturdays.
fluttergirl 09:04 AM CST [link] [3 comments]
Friday, January 18, 2002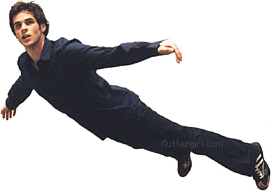 Busy now. Will post this evening. Much love.
fluttergirl 03:20 PM CST [link] [1 comment]
Thursday, January 17, 2002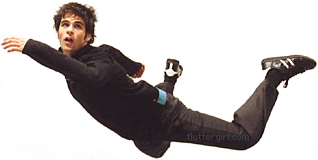 fluttergirl 01:44 PM CST [link] [1 comment]
Wednesday, January 16, 2002
Today is Zack's and my second wedding anniversary.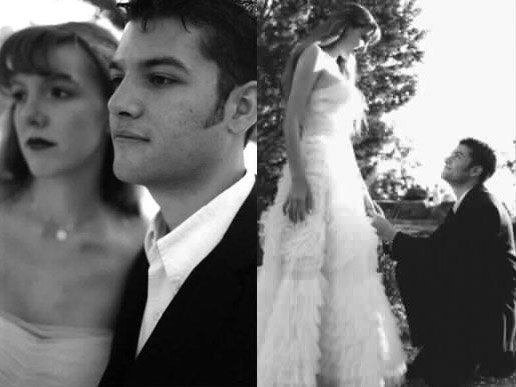 i carry your heart with me(i carry it in
my heart)i am never without it(anywhere
i go you go,my dear;and whatever is done
by only me is your doing,my darling)
i fear
not fate(for you are my fate,my sweet)i want
no world(for beautiful you are my world,my true)
and it's you are whatever a moon has always meant
and whatever a sun will always sing is you
here is the deepest secret nobody knows
(here is the root of the root and the bud of the bud
and the sky of the sky of a tree called life;which grows
higher than soul can hope or mind can hide)
and this is the wonder that's keeping the stars apart
i carry your heart(i carry it in my heart)
-- ee cummings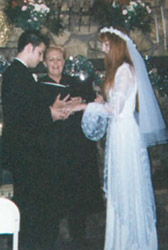 I love you more than life, Zack. Forever.
fluttergirl 08:21 AM CST [link] [7 comments]
Tuesday, January 15, 2002
I made a new index page for this site. Check it out here. The monkey/fairy-in-a-box/die is from a Miró painting called "The Harlequin's Carnival." Miró is by far my favourite artist.
"Like hell, with pie." This comes from one of Droop's old profiles. When asked for his location he put "If I had a piece of pie, then this would be hell with pie."
I may change it later. I don't know. I'm not feeling so hot today. Blah.
fluttergirl 03:25 PM CST [link] [26 comments]
Monday, January 14, 2002
I've been awake since 2:30. I hate it when I can't sleep. I should be soaking in a bubblebath right now, but instead I'm sitting in front of this damn machine again.
I'm reading random blogs. Snob that I am, whenever I find one that is anime-themed I think "booooring," and close it. Anime (aside from the weird porn shite) has to be the lamest trend ever. The first time I ever saw an anime movie was one evening in '95. I was hanging out with my friend Chuck at his ultra-hip studio apartment in Austin. (It was in a creaky old house. You could see the capital building from one of the huge windows. Rawk.) I remember being so frigging bored. Watching cartoon machines sodomize little bug-eyed Asian girls was not my idea of fun, bizarre as it was. I waited until he went to the bathroom and changed the tape to Blue Velvet. Woo.
And now, many years later, you can't escape from the little bug-eyed Asian girls. Damn the luck. There's a scary amount of 13 and 14 year old girls with domains.
fluttergirl 04:42 AM CST [link] [357 comments]
Sunday, January 13, 2002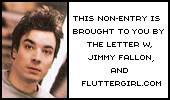 fluttergirl 01:22 AM CST [link] [2 comments]
Friday, January 11, 2002
Thanks to redsugar for the following questions. Her car is sooo much cooler than mine.
1. What was your first job?
My friend Samantha and I worked for a caterer down the street. It was the most unsanitary place I've ever been. I think we stayed with it for one gig.
2. How old were you when you had your first kiss?
Seven. I stole a kiss from an older boy I had a crush on. Then I kicked him in the shins and ran away. Woo!
3. What was your first car? What happened to it?
Datsun 280 ZX. I could do 60 mph in second gear, which was mindblowing to all my friends. It was a two seater hatchback. I would cram five people in it and speed everywhere. Someone finally told my parents what I was up to. They took it away from me and gave me a Ford Bronco. Didn't bother me. I could fit 13 to 15 people in that damn thing. (That's a lot of gas money.) I would take the top off in the summer. I also made cash by carting around tourists in New Braunfels. They would rent tubes and float down the Guadalupe River and then realize they didn't have a way to get back to their cars. Hellooooo easy money.
My parents gave the 280 ZX to my younger brother who promptly ran it off the road and into a cemetery. Helloooo junkyard.
4. What was your first concert?
The Oak Ridge Boys. It was almost Elvis, but my dad got back in town from a business trip in time to accompany my mom. Dammit.
5. How do you plan to spend your weekend?
Miniature golf, baby!
fluttergirl 09:49 PM CST [link] [comment]
According to the Beliefnet faith quiz, my religious path is:
1. Neo-Paganism (100%)
2. Unitarian Universalism (93%)
3. New Age (88%)
4. Liberal Quaker (81%)
5. Mahayana Buddhism (80%)
6. Reform Judaism (70%)
7. Hinduism (65%)
8. Secular Humanism (65%)
9. Liberal Protestant (63%)
10. New Thought (62%)
11. Theravada Buddhism (60%)
12. Jainism (59%)
13. Bahá'í (55%)
14. Scientology (55%)
15. Sikhism (54%)
16. Taoism (54%)
17. Orthodox Judaism (48%)
18. Atheism and Agnosticism (42%)
19. Christian Science (Church of Christ, Scientist) (42%)
20. Orthodox Quaker (42%)
21. Islam (39%)
22. Conservative Protestant (20%)
23. Latter-day Saint (Mormon) (19%)
24. Seventh Day Adventist (17%)
25. Eastern Orthodox (12%)
26. Roman Catholic (12%)
27. Jehovah's Witness (9%)
What religious path do YOU follow? Take the quiz and find out!
fluttergirl 11:39 AM CST [link] [3 comments]
Thursday, January 10, 2002
Six more days until our two year wedding anniversary!
Zack announced today that there's a -tiny- chance that we may move to "the West coast." No frigging clue WHERE on the West coast. And no clue when. But unless it's in the very Northwest, I'm not interested.
Hey Dena... wouldn't that be ironic if you moved to Misery and I ended up in South Cali?
"The reason I know I am God is because one day as I was praying, I realized I was talking to myself."
-- Nicholas Patterson
Why am I never called for jury duty when I have some free time? Damn Murphy.
fluttergirl 09:35 PM CST [link] [1 comment]
Wednesday, January 9, 2002
My brother is an idiot. I met him at Alysia's work this afternoon so we could go to lunch. He rode his stupid motorcycle while Alysia and I took my car. As we were approaching a stoplight Larry did an endo. (FYI - an endo is when a rider hits his front brakes and balances on only his front wheel.) If I hadn't been paying attention I would have run his dumb ass over. Then when we were approaching the highway he did a wheelie. A very -long- wheelie. Was he wearing a helmet? No. It scares the hell out of me to know that he's riding a bike. I do not want to see my baby brother in a coffin. Damn him.
My parents ride Harleys. Dad has two Road Kings and Mom has a Sportster. I can't stand to watch them ride, either. They're both good, safe drivers... but people in cars just don't pay enough attention to motorcycles. :(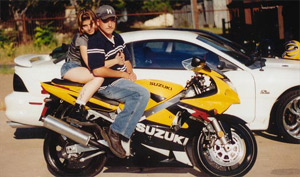 Larry and Alysia on their stupid toy.
On a happier note, my dental went fine today. Other than the wisdoms my teeth are top notch. I have an appointment on Monday, January 21st, to get them removed. The wisdoms, that is. Rah.
fluttergirl 10:32 PM CST [link] [9 comments]
Tuesday, January 8, 2002
My name is Suzie. I have wisdom teeth. Gawd.
Tomorrow I'm getting x-rays by my old dentist in Burleson so he can take them out. Dammit. I only have my upper wisdoms, and supposedly they're the easiest to remove. Here's hoping, anyway.
It was in the 70's today. Hello... winter? Where are you? Come back, please. It's frickin January.
Buffy's new hairdo looks like a blondish Ally McBeal wig. And Disney actually named a character in one of it's movies "Demon?" Rawk.
Do you like the new layout? Haha, I don't care. <3
fluttergirl 08:33 PM CST [link] [2 comments]
Monday, January 7, 2002
We saw Pornlab (James!!) and Slow Roosevelt last night at the Curtain Club. SloRo's new material is great, but I'm glad they played some old stuff. We were standing next to a very drunk chic who kept yelling that she had cut the drummer's hair a couple of times. (She should talk Pete into a cut. If his hair gets any longer in back he'll be sporting a full-fledged mullet.) Then she started yelling that she was part Mexican and she needed to "represent." "My mom is making menudo this week!! Y'all need to come over!!" Then she got on stage and flashed her boobs at the crowd. Good times... good times.
Tonight Zack steamed some artichokes for dinner. He kicks so much ass.
We got our bill in from the hospital for Zack's appendectomy. He was expecting it to be over $2,000, because he was in the hospital for four days. I expected it to be over $1,000. The grand total was over $11,000. But after our insurance shelled out some moola we owe a little over $500. God, I love insurance.
fluttergirl 09:35 PM CST [link] [1 comment]
Sunday, January 6, 2002
Little snippets from 2001:
January: Moved into our new apartment. Celebrated our first wedding anniversary. Ate pieces of the stale wedding cake that had been lurking in our freezer. Started learning how to cook.
February: Spent the whole month frantically downloading MP3s because Napster was "going down."
March: Turned 27. Earn the title of "Mario Andretti of truck driving." First trip to Cleveland. Had that "Cleveland Rocks" song from Drew Carey stuck in my head the entire time.
April: Got new tires put on my car. Drove a bunch of trucks. Got back in touch with my friend Allen. Camping trips. I get my first cold of the year.
May: Visit the armpit of Texas, McCamey. Party all night in New Orleans with a stranger.
June: Steph comes to visit. It's the only time we see her all year. More camping. Take charge of the office while the boss goes on vacation. Swear I will never do such a foolish thing again. Make mid-year resolutions. Promptly break mid-year resolutions.
July: Zack goes to Canada on a business trip. Zack announces that we may be moving to Maryland. Go swimming in a quarry for the first time since I was a kid. Get a ticket for not making a complete stop before turning right at a red light. It's my first ticket for anything but speeding and my first ticket in six years.
August: Get my first ever warrant for not paying my ticket. Freak out, pay the ticket I had ignored, feel relief that warrant goes away. Swear I will never "forget" about a ticket again. Get asked out by a Dallas Cowboy while paying my cell phone bill at a Sprint store in Irving. Have to go home early because my head won't fit through the door at work.
September: Go antiquing. A lot. Meet some of Zack's other relatives. Find out that Zack and I are not moving to Maryland. 9-11. Silently freak out every time I see an airplane fly overhead. Zack turns 26. We go to New Orleans to celebrate.
October: Zack gets a root canal. I'm unemployed all month. I watch so much WB and UPN that my dreams are peppered with guest appearances by vampires and preppy model types.
November: Zack has his appendix out. I regain employment. I fly for the first time since the attacks. Spend a long weekend in Las Vegas with senior citizens. Blow $5.00 on the slot machines and win 5 nickels. See the Golden Gate Bridge in person for the first time.
December : Spend a solid week moving trucks from Georgia to Oklahoma. Zack breaks his vicious cycle of requiring medical treatment that costs thousands of dollars. Get a new scanner. Acquire "allergies" to unknown substances.
That's all I could come up with off the top of my head. I'm sure I'll think of other important things to add later.
fluttergirl 12:31 PM CST [link] [1 comment]
Saturday, January 5, 2002
TLC. World's Most Dangerous _______ Caught on Tape. This channel rocks. Where else can you see a cowboy getting gored, people getting shot, babies being birthed, and body parts being reattached all within two programs?
Why do people in Europe go to soccer games? It's like a deathwish. Either the crowd riots and people are trampled to death, or the crowd riots and people are beaten to death, or the crowd riots and the stadium collapses and burns. No frigging way would I ever go to a soccer game in Europe. Crazy bastards.
And now.... crackwhores on Cops. "Sir, that's not a hit of crack in my pocket! Those guys!! Those guys in the alley who were with the whore... and they tried to rob me and they put the crack in my pocket! Just ask my supervisor, Craig!! Sir, I gave you a false name because I was scared! Just ask Craig! That's not my Vaseline!!"
Boy, those Atlanta cops are hardasses. Can't a guy screw a whore and smoke a little crack without being persecuted by The Man anymore? Jeez.
fluttergirl 07:54 PM CST [link] [2 comments]
Friday, January 4, 2002
We had a hard drive crash. I -hate- it when that happens. I thought I had lost all of the images I had scanned. Luckily my husband is an amazing geek. He managed to recover all of my important files, everything I had scanned, AND all of the mp3s and videos I had downloaded. He's now setting up two drives that will mirror each other, so we won't have to deal with this again.
Some kind of mysterious vandalism has caused our apartment's mailboxes to be completely gutted. It must have happened sometime between noon and four today. The boxes looked fine when I took the dogs out at lunch, but the office had already printed up flyers and distributed them to each apartment by the time Zack got home at 4:30. It said that the boxes were "vandalized" and our mail was going to be delayed until Tuesday afternoon. No word on what happened. I may call the office tomorrow to find out what kind of vandalism would cause a huge two sided bank of around 300 mailboxes to be removed. There's just a big shell left.
This is why I get all of my important mail at my post office box. Thasssss right.
fluttergirl 10:14 PM CST [link] [3 comments]
Wednesday, January 2, 2002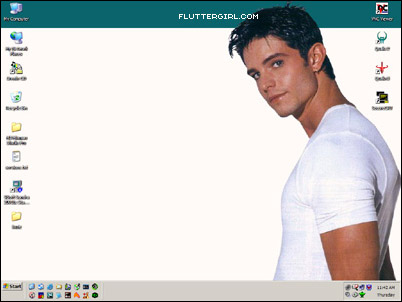 My new desktop.
Jason Behr - Professional Hottie.
Big ears be damned. Look at those arms.
It snowed today. Briefly. Non-stickage to the ground. Lame.
This afternoon I downloaded a Dean Martin song from a person named "sepulturafreak." Weird. Of course, my WinMX name is "meowkill." So never mind. Dammit.
fluttergirl 07:57 PM CST [link] [5 comments]
Tuesday, January 1, 2002
2002. I feel like I'm in a space age movie, but without all the cool gadgets and flying cars. My new year's resolutions:
To be more caring towards others and less concerned whether they care about me or are aware of the fact that I care about them. I will make eye contact with strangers and smile, even if they think I'm insane.
I will devote more time to my friends and less time to Buffy.
I will drive less aggressively and more considerately, even if no one else on the highway is as talented of driver as I am. ;)
I will spend more time outside with Mother Nature and less time inside sitting in front of the beguiling Internet God.
I will go back to college and finish off my degree. That will be this summer or fall. I've got too many lucrative runs lined up this spring to start before then.
I actually think I'll be able to pull it all off this year.
--

--
fluttergirl 11:41 AM CST [link] [3 comments]