bio

pix

europe

links

soundgarden

chris cornell

contact

naughty dolls

home

Sunday, June 30, 2002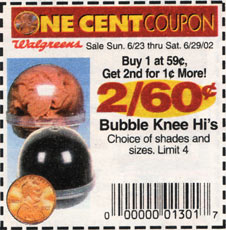 I hope I never get old enough
to appreciate stuff like this.
Off to the doctor for me tomorrow. Wheee. I'm falling apart, kids.
Kidding. :) I'll live at least long enough to be an annoyance to my children. If I ever get around to having them (as my mother would say.)
suzie 08:03 PM CST [link] [5 comments]
Saturday, June 29, 2002
I want to get tickets to see one of the world's greatest con-artists -- Benny Hinn. This guy claims he has brought people back from the dead. Zack said he'd be interested.
I am soooo there. And I'm bringing my own popcorn. woo!
suzie 09:54 PM CST [link] [5 comments]
Friday, June 28, 2002
I've been ill. So sue me.
Actually, I've been drunk since Tuesday.
I'm lying.
Whatever.
I really am ill, though.
I hate: anonymous telephone calls, militant Michael Jackson fans (*snicker*), hiccups, and hospitals.
I like: bubble gum, raw spinach, naked Michael Jackson dolls, mountains, and DSL.
Take that, damn you.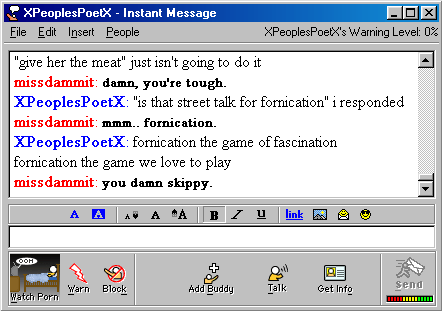 suzie 08:40 PM CST [link] [3 comments]
Tuesday, June 25, 2002
Brazen Hussy:
1 oz. vodka
1 oz. triple sec
.05 oz. lemon juice
Double the proportions, shake with ice, and serve on the rocks. You damn skippy.
suzie 05:17 AM CST [link] [5 comments]
Saturday, June 22, 2002
We're going to Six Flags today. I'm going to eat funnel cakes and ride rollercoasters until I PUKE.
Good times... good times.
Z is flying to NY on Tuesday. That means it's just me, the girls, a pizza, a big bowl of popcorn, a couple glasses of wine, and Tom Welling... ummm... I mean Smallville.
Shut up. You don't knoooooow me, man.
I have a new favourite song this week. I'm putting it up here because they're offering it as a free download on their website.
The Vines - Get Free.mp3 | 2.49mb (right click: save as)
mp3 expiration date: 06.29.02
suzie 10:46 AM CST [link] [6 comments]
Wednesday, June 19, 2002
I was sickly yesterday. Poor me.
I just took the dogs out for a pee break and the air was very smoky. I immediately started tracking down the source. That's one huge fear of living in apartments -- idiot neighbors who might catch our homes on fire. One of the attendants putting around in a golf cart told me that a van in a parking garage had caught fire. Good. I won't have to murdalize any of my idiot neighbors.
Here's a less artsy pic from the last Slow Roosevelt show: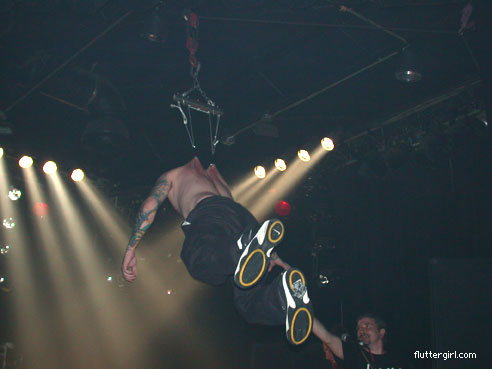 the pain guy.
Zack might have to fly to New York on Friday to do some on-site work thing. Boo.
suzie 02:15 PM CST [link] [5 comments]
Monday, June 17, 2002
Zack just called to order us a pizza (large pepperoni & jalapeño) from Pizza Slut and they said that we order so much food from them they're giving us this one free. What a testament to my cooking skills. Rawk.
suzie 07:09 PM CST [link] [6 comments]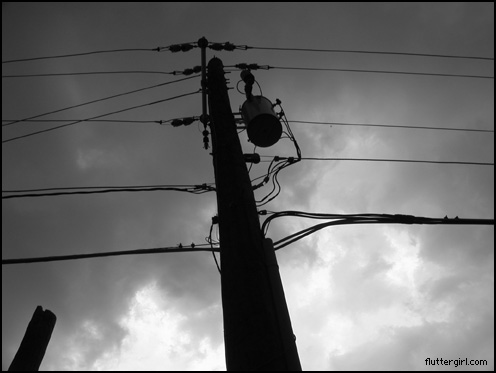 stormy weather.
I haven't answered any email yet. Damn me. I'll make it my mission in life to respond to everyone by tomorrow afternoon. Ha.
Z and I took the dogs rollerblading with us yesterday. There's an empty parking garage just outside our apartment complex that we share with little skater kids and the occasional transient. We zipped around and around while the dogs chased us. Zack only fell once.
I never fall.
I was out of my mind yesterday and didn't call my dad. I am a rotten daughter. Double damn me.
I

you, Padre.
suzie 03:33 PM CST [link] [4 comments]
Saturday, June 15, 2002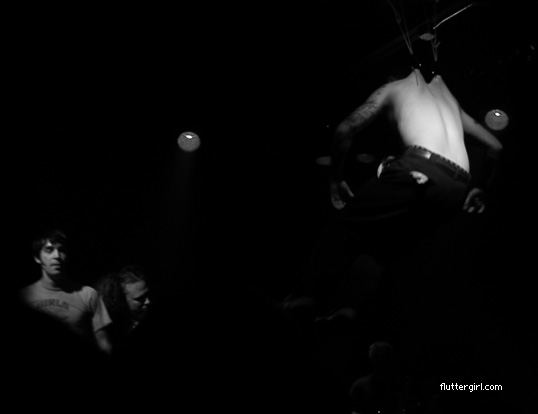 Slow Roosevelt: Pete, Scott, and the Pain guy.
More pics tomorrow.
Today Zack and I bought new K2 rollerblades. Z only bit it once. We're so cool.
suzie 10:28 PM CST [link] [1 comment]
Friday, June 14, 2002
good:
margaritas
slow roosevelt
friendly strangers
bad:
too many margaritas
creed
evil old women in supermarkets
I woke up this morning on the brink of a hangover. Devil tequila.
Tonight we're going to see Slow Roosevelt at the Curtain Club. Their extra special secret guests are those guys who pierce their skin with hooks and swing from the ceiling. I'm always paranoid about getting blood on me at these shows. The last time I saw one the guy had some chic swinging from his legs and he got ripped down. Ick. I'm going to bring the camera and see if I can't get some good pictures.
I still haven't finished reading all the blogs I missed while I was gone. Woe.
I'll be replying to emails tomorrow. Because I loooooove you all.
suzie 09:06 PM CST [link] [4 comments]
Wednesday, June 12, 2002
I'm back. It was frigging hot here in Dallas today. I hate this damn weather.
A few notes from the beach trip we took with Zack's mom, Sue, and his sister, Kristina (written in past and present tense. sorry.):
---------------------
Wednesday, June 5th--
We stopped at HEB to get groceries before we arrived at the condo. Sue (Zack's mom) and I were checking out the fruit. She found some yummy canteloupe on sale and handed me two of them to put in the cart, but Zack had taken the cart to another aisle to get onions or something. I walked around the corner while clutching the fruit to my chest. Zack got a wicked look on his face and said "Nice melons." I replied "Thanks. They're your mother's."
Our condo is on the ground floor facing the water. The entire seaside wall is made of glass. We can open the sliding door, walk over a few feet of grass, cross a sidewalk, climb 10 steps down the seawall, and we're on the beach. Here's a picture I took of my reflection in the door of our condo at the Mirror Project:
http://www.mirrorproject.com/mirror/?id=7112
We went swimming not long after we got to the condo. I was doing pretty good with the bodyboard, but then I got grazed by a jellyfish on my elbow. Ouch. I hung it up not long after that.
Z made enchiladas for dinner. We watched The Neverending Story on tv. His mom and sister find it disturbing and think it shouldn't be shown to children. I recalled that my mother let me rent any horror movie I wanted as a child (my favourites featured zombies), so The Neverending Story was nothing but pure fun. His mom wonders that I turned out so (seemingly) normal. I do, too.
Thursday, June 6th--
Woke up at 7 a.m. Z got up at 7:30. We tried to go for a morning walk on the beach, but Z was distracted by tiny shrimp that were washing up on shore. He thought they were brine shrimp. Sea monkeys? Biggest damn sea monkeys I'd ever seen. I was unimpressed. Z wanted desperately to dig through the kelp that had washed ashore overnight and look for more sea creatures. We walked maybe a half mile before I turned us around for breakfast.
Later -- Breakfast and then frolic in the water all day. I lost track of time while bodysurfing and got sunburned. Damn me. Two days of vacation to go and I'm not allowed in the sun anymore. %#$&!!!
Friday, June 7th--
I'm sitting on the couch, in the air conditioning, watching Zack and Kris bodysurf. They're both half Mexican and browning nicely. Z has stopped protesting the sunscreen I slather on him every hour. I'm not too badly burned, but unwilling to press my luck. Stupid fair skin. Blah.
Later -- As the sun was setting I donned a long-sleeved shirt and my huge hat and went out to take some pictures. Check out my seagull: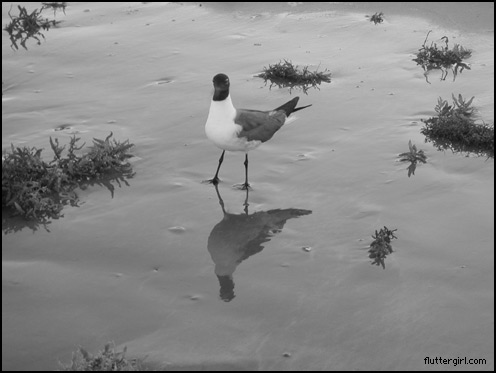 I got a bunch of great pictures of Kris & Zack bodyboarding. I'll put them up later.
Saturday, June 8th--
We ate dinner last night at our favourite Padre restaurant, The Crazy Cajun. Their most popular dish is a mixture of shrimp, crab legs, crawfish, corn on the cob, sausage, and baby potatoes. Instead of serving it on plates they bring it to you in a large bowl and dump it in the middle of the table. Then they give you little wooden mallets and you eat with your hands. Woo!
This morning Z, Kris, and Sue went swimming all morning. I watched MTV Cribs and played on my laptop and watched them. This afternoon we pack, zip by the sand sculptures, and hit the road for Austin. I'm planning on napping all the way home.
---------------------
Anyhoo, I'm home. I'm peeling. I'm trying to line up some driving jobs. I'm watching Buffy reruns. I'm excited because Our Lady Peace and Ash are going to do a show together next month. I'm going to have a martini. Mwah!
suzie 06:22 PM CST [link] [5 comments]
Saturday, June 8, 2002
I'll be back tomorrow or Monday. Stay tuned.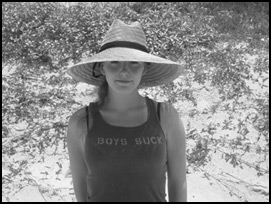 suzie 09:50 PM CST [link] [7 comments]
Tuesday, June 4, 2002
I'm on vacation. I'm eating beef jerky. Nyah!
suzie 03:08 PM CST [link] [4 comments]
Monday, June 3, 2002
Yesterday we went to a party for Zack's cousin, Josh. He got married a couple of weeks ago in Mexico. The party started off kind of slow, but it was hysterical by the end. I met a lot of Zack's relatives. A few of them were real characters. Uncle Jerry (Josh's dad) was farting non-stop. Josh has light red hair that's almost as long as mine. His sister Jenny looks like a pixie, but she's a cop. But the most interesting person I was introduced to was Z's great Uncle Bob. He reminded me a lot of Hunter Thompson, because he speaks very quickly and is a little quirky. He told us a joke right before we left. I can't recall how it went, but I do remember how it started: "A sadist and a masochist were making love..." Then he looked at Amanda, my brother-in-law, Steven's, girlfriend, and said "honey, you have blonde roots, you'd better pay extra attention." Amanda does have naturally blonde (and gorgeous) hair, but she's definitely no ditz. He told the joke, which was way out there. When Amanda didn't laugh right away he took her by the shoulders and said "you're beautiful, but dumber than a rock." I couldn't believe it. I thought Amanda was going to knock him on his ass. She could have done it, too. Great Uncle Bob has to be in his 70's and Amanda is very athletic.
I wish I had someone as eccentric as Great Uncle Bob in my family. Most of my relatives are nice, normal people. Damn the luck.
suzie 11:31 AM CST [link] [1 comment]
Sunday, June 2, 2002
I have never been prone to headaches, but for the last couple of months I've been afflicted with them. On Friday afternoon I finally went to the doctor. It turns out I've got high blood pressure (152/98). It's ridiculous. I've always had low blood pressure. When the nurse checked my pressure the first time she said "that can't be right." So she took me into another examining room and checked my pressure AGAIN with another machine. Why do I have high blood pressure? I'm not overweight. I'm not terribly old. The doctors think it may be my diet, stress, and lack of exerciese. They told me to cut down on my salt intake (sure, why not just jab red hot needles into my eyeballs). I'm supposed to limit my alcohol intake (screw those quacks). And I already knew that I'm not getting enough exercise, so that was no surprise. The headaches are rotten. I checked my pressure Friday night and it was 146/95. But yesterday afternoon it was down to 138/97. I know this must be boring as hell to most of you, but it freaks me out.
The doctor told me to keep monitoring my bp and to report back to them in a month if it hasn't gone down. If that's the case, they're going to put me on some medication. Dammit.
suzie 11:42 PM CST [link] [3 comments]