bio

pix

europe

links

soundgarden

chris cornell

contact

naughty dolls

home

Wednesday, April 28, 2004
Check my foxy ass out - second time on a track:
(and keep in mind that the TTR225 weighs 260 lbs dry, mmmmkay?)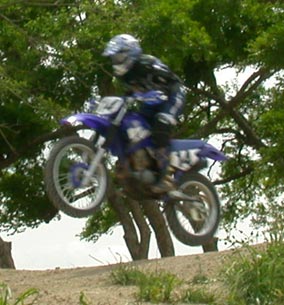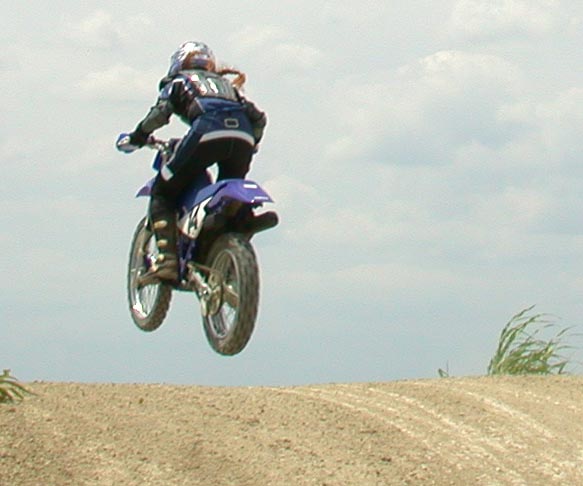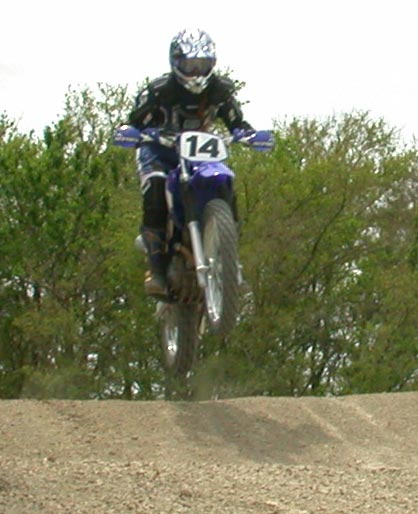 I'm so going to kill myself on a dirt bike.

PS - When I donated platelets last Thursday I got my four gallon pin. Right on!
suzie 11:00 PM CST [link] [6 comments]
Sunday, April 25, 2004
Every frickin' weekend at least one tv station shows a James Bond marathon. I never got into James Bond movies. Zack loves 'em. I've been wandering back and forth between the living room and computer room today, so I've caught bits and pieces of the movies. A conversation between Zack and I a couple minutes ago:
Me: "Are they in outer space??"
Z: "Yeah."
Me: "Is that the same girl he was just in the back of an ambulance with?"
Z: "Yeah, but he jumped out the back of the ambulance." (As it was speeding off to who-knows-where.)
Me: "And he left the girl in the ambulance."
Z: "It's not like he could jump back in to the ambulance."
Me: "And now they're in outer space."
Z: "Well, it's better than being in the back of an ambulance."
I give up.
suzie 06:00 PM CST [link] [5 comments]
Monday, April 19, 2004
The SX races were AWESOME!
Warning: When it comes to my obsessions I'm as mature as a 12 year old girl. There is much gushing in this post.
Zack and I showed up around 12:45 pm. We mosied around the pits for an hour or so and I got to meet Travis Pastrana and Josh Hansen. Travis is such a cool kid! I didn't have a poster or magazine featuring him so I dug frantically through my purse for something to have him sign. I came up with my blood (platelet) donor card. The look on his face when I asked him to sign it was hilarious! He said "Are you kidding? Ha!" He also took a picture with me, the sweetheart. That made my day.
Me and Travis Pastrana
Later Meagan and Ryan arrived and we watched some of the riders practice on the track. I got to see K-Dub whip his bike across the triples right in front of me. So. Frigging. Cool.
As soon as K-Dub left the track I dragged Zack, Meagan, and Ryan out to the pits again because he was doing an autograph session. Yes, I got to meet Kevin Windham. Holy CRAP, was I excited?? He thought it was funny to sign my blood donor card, too. He'd signed a poster as well and he seemed a little bewildered when I didn't grab it right away. I asked him if I could take a picture with him and he said yes. Then he stopped, blinked his big blue eyes and said "Don't you want the poster?" HA! I know, I'm gushing. I can't help it.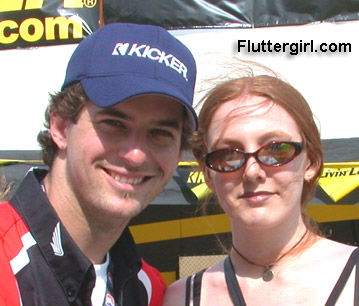 Kevin Windham and me!
After that bit of excitement we went back inside the stadium and sat down. We watched some more riders practice and chatted. I kept showing Meagan my Kevin Windham autographs, which was silly because she got an autograph, too. :)
The races were absolutely thrilling. We were sitting in front of the whoops and we saw many riders go over their handlebars. When Windham got the holeshot I almost fell over into the seat in front of me. I am SUCH a dork. Chad Reed won the race, Windham got second, and LaRocco took third. I wish Windham would have won, but Chad Reed is just too fast this season. Damn him. :)
The only downer of the whole day was that my sunscreen didn't protect me at all. 50 SPF my ass! That shit went straight in the trash as soon as I got home.
Anyhoo, I have a ton of email to catch up on. Sorry I've been out of touch, kiddies.
suzie 11:44 AM CST [link] [3 comments]
Tuesday, April 6, 2004
One of Zack's buddies at work bought American Idol reject William Hung's cd at lunch today and played it over and over again. All evening Zack has been mumbling under his breath "She bangs... she bangs.... GODDAMMIT!!" Ha.
suzie 09:58 PM CST [link] [5 comments]
Monday, April 5, 2004
As I was backing out of a parking spot at the mall this afternoon a woman in a brand new Lexus started to back out, too. She obviously thought that because her car was way more expensive than mine she should be allowed to pull out first. Like hell! I kept backing up. Finally we reached a point where our cars were almost touching. We both just sat there, waiting for the other to concede. I know the dimensions of my car, so I started to back up a little more. She probably thought that I don't have insurance (I do.) so she pulled back into her spot. Winner of the parking lot rage contest... me! Damn skippy!
Now I have to go back to the mall to pick up my glasses. I needed anti-glare lenses because the reflections in the plastic were causing me to twitch. Causing me to twitch more than normal, I mean.
*twitch*
suzie 05:06 PM CST [link] [6 comments]
Sunday, April 4, 2004
Yesterday Zack and I went to three different motorcycle dealerships so I could sit on some different bikes. I wanted to be absolutely positive the TTR is what I wanted. The sales guys kept chatting up Zack, even though *I* was the one looking for a bike. The guy at the Plano Honda dealership wouldn't even look at me. What a fucking putz!
Anyway, Zack found a great deal on a 2003 TTR225 down by Houston. I'm picking up my bike on Friday! Yay! Speaking of Houston, it looks like we may be down there for the whole weekend. There's some kind of motocross get-together happening.
Rob and I walked down to the creek on Thursday and we saw a HUGE snake sunning itself on a rock. I described it to Zack and he said it was a Water Moccasin. The thing must have been at least three feet long. I really need to start carrying my camera with me.
Gotta go... the Pontiac SX race is coming on right now. I kind of already peeked at the results. Sorry, Z. I'm so bummed! Windham took 4th place. Man, I hope he kicks it up a nacho here in Dallas. I think I'm going to use Windham's numbers on my bike. He's so keen. ;) And I'm such a dork.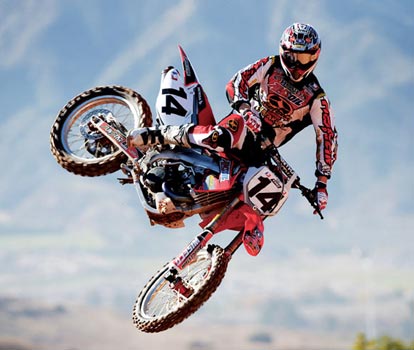 Frigging awesome.
suzie 12:00 PM CST [link] [2 comments]
Thursday, April 1, 2004
A quickie update:
- Summer is almost upon us and the air conditioner in my car is broken. *insert bad words here*
- I've decided to buy a dirt bike. I'm looking at a Yamaha TTR225 right now. After I break my rotten neck on it I'll probably have more time to write stuff in this blog.
- I finished our taxes yesterday. E-filing is pretty easy. We're even getting a return. Woo!
- Only 16 days to Supercross! My KW Amsoil posters are going to be delivered tomorrow. :)
- After viewing the splash page on my laptop I realize I did a crappy job editing the pictures. Sue me. I'm no Raspil, that's for damn sure.
- I'm going to eat lunch and donate platelets now. Ta.
suzie 01:22 PM CST [link] [5 comments]