bio

pix

europe

links

soundgarden

chris cornell

contact

naughty dolls

home

Sunday, June 20, 2004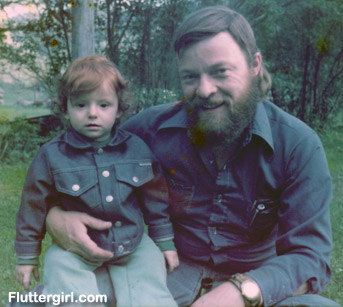 My darling daddy and me
Happy Padre's Day, Daddy... I love youuuuuuuu!
And a happy Summer Soltice to all my Pagan sisters & brothers! )O(
suzie 08:08 PM CST [link] [4 comments]
Thursday, June 17, 2004

You don't know me.
suzie 07:38 PM CST [link] [3 comments]
Tuesday, June 15, 2004
I got a Gmail invite! I am sooooo much geekier than I ever thought.
suzie 09:12 PM CST [link] [17 comments]
Liberty Hill MX was a wash. Literally. The entire practice weekend was rained out. We found other ways to amuse ourselves. My lawyer told me not to say anything else.
I turned off my catch-all email thingy. So if you want to contact me you have to use my webmistress__AT__fluttergirl address, or else your mail will bounce.
suzie 05:29 PM CST [link] [1 comment]
Thursday, June 10, 2004
I'm out of here for the weekend. We'll be riding at either Liberty Hill MX or Cycle Ranch MX on Saturday.
If I'm not back by Monday, avenge my death.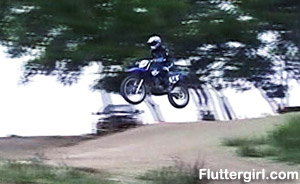 suzie 03:09 PM CST [link] [2 comments]
Tuesday, June 8, 2004
Today I went by the bank...
stopped at the grocery store (read: NOT WALMART) to buy three bags of unsalted potato chips and three large, shiny pablano peppers...
and then I changed the oil in my motorcycle.
I swear, I'm such a rockstar.
If you like crazy people... and I mean certifiable... go visit Retrocrush.com. The forum is where it's at, kids. A cooler and zanier group of people cannot be found online. And I'm not just saying that because I'm a mod there. :)
suzie 05:29 PM CST [link] [2 comments]
Monday, June 7, 2004
I fucking hate Walmart and I'm never going there again unless I'm with someone who will stand in line for me while I wander off to the candy section. This means you, Zack.
The only cool thing about the place is that in the summer they hire a bunch of cute little high school boys to stock shelves.
Cute stock boys = good.
Standing in line for 10 minutes behind a woman with screaming kids = Kill Whitey!
suzie 02:04 PM CST [link] [10 comments]
Sunday, June 6, 2004
How I spent my day:
Woke up a bit after 10 a.m.
Ate breakfast tacos that Zack made.
Spent many hours working on a new layout for this site that I'll probably never use.
Downloaded about 25 Incubus videos. I blame her.
Took a two hour bath. Made a solemn promise to myself that when we buy a house I'll equip it with the biggest frigging hot water heater ever made.
Made sandwiches for dinner. Ham, cheese, lettuce, tomato, and onions on Texas toast.
Lamented the fact that I ran out of vodka yesterday.
Made a mental note to buy more vodka tomorrow.
And orange juice.
That's it. That was my day. The partay never ends in the Salinas household. Betcha.
suzie 06:49 PM CST [link] [comment]
Saturday, June 5, 2004
I bought some new shoes, but I can't wear them because I was attacked by stupid chiggers at the wedding. Chiggers are a fact of life in Texas. Stupid Texas. I've gone through half a tube of Cortizone-10 and I'm still itching. Stupid bad habit of biting my fingernails. Grrrrr.

My new Pumas.
New favourite song: Incubus - Agoraphobia.
Reading: The new copy of RacerX. I have a book on hold at the library, though. Thanks, Carey!
Dreaming: You don't want to know.
Drinking: Vodka. Lots of it.
Eating: Broccoli cheese soup mixed with V8, pepper and half a bottle of Tabasco.
Obsessed: With nothing right now, which is probably why I'm drinking so much vodka.
Go visit Buttonmonkey.com, because Terry is cool and funny and because I told you to.
xo
suzie 11:34 PM CST [link] [2 comments]
Last weekend we were down in Austin because Steven, one of Zack's brothers, finally got married to his girl, Amanda. Mandy & Steve got together at about the same time Zack and I did. It's about damn time they tied the knot. The wedding was fun. Mandy was stressed out that morning, but by the time we were all getting our makeup and hair done she had calmed down enough to enjoy everything. I was an unofficial photographer of the event and I took some nice peeeectures for their album. View below, if you please:

Amanda and Steven exchange vows.

Zack and one of the bridesmaids.

Amanda and Steven - newlyweds!

My lovely sister-in-law, Kristina, and her brother, Steven.
I was really wishing for an SLR digicam. Doh.
The next morning Zack and I went to Liberty Hill MX and rode for many hours. The track was a bit torn up when we got there, but after a half-hour or so the other riders had smoothed it out for me. :) I have to say that it was the best time on a track I've ever had. And I've never wished for a YZ250F more. At the end of the day I was so tired I was literally shaking, but I decided to go out for two more laps.
Big. Mistake.
After the last tabletop I was pulling off and I hit a patch of loose dirt and fell over. I twisted my knee a bit and heard a pop as I was going down. I was afraid I'd hurt my ACL. Zack tore his last year, and ever since his surgery I've been a bit paranoid about my own knees. All was well, though. The only thing seriously hurt was my pride. Z informed me about the excruciating pain that accompanies a torn ACL and I didn't feel anything close to that. As I was pulling myself out from under my tank of a bike a rider from another camp came running over help me. I had the pleasure of seeing him wince and grunt on his first attempt at picking my bike up. It's about 50 pounds heavier than the average dirt bike. Later Zack was looking at my knee guards and he showed me where the plastic had popped when it overextended a bit. Z has decided that our next purchase will be a pair of EVS braces for me.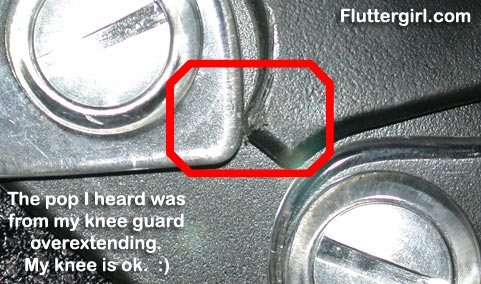 That's the big news from here. How's by you?
suzie 06:15 PM CST [link] [comment]
Friday, June 4, 2004
Random hottie wearing Chucks picture 07: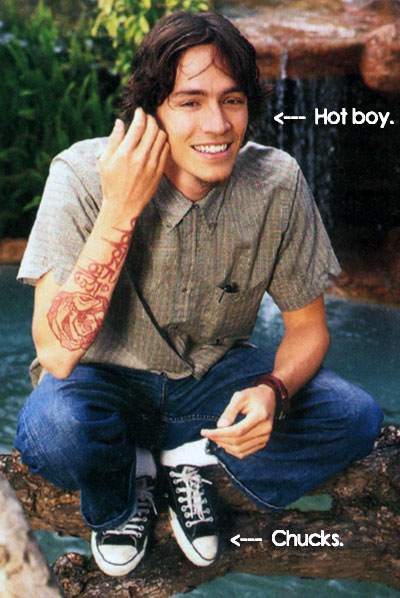 Brandon Boyd.
Any questions?
suzie 08:09 PM CST [link] [3 comments]